adidas Men's ClimaWarm Team Issue 1/4 Quarter Zip Athletic Fleece Pullover Shirt
Item condition: New without tags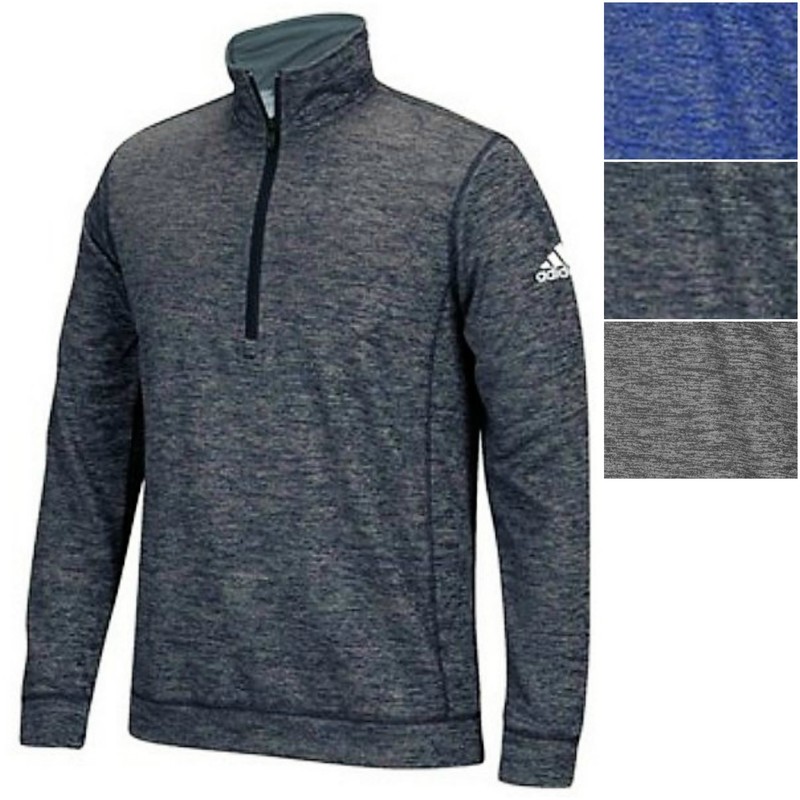 | Color | Size (Men's) | Price |
| --- | --- | --- |
| College Navy Heather | Small | $60.00 $19.99 |
| College Navy Heather | Medium | $60.00 $19.99 |
| College Navy Heather | Large | $60.00 $19.99 |
| College Navy Heather | X-Large | $60.00 $19.99 |
| College Navy Heather | 2X-Large | $60.00 $19.99 |
| College Navy Heather | 3X-Large | $60.00 $19.99 |
| College Royal Heather | Small | $60.00 $19.99 |
| College Royal Heather | Medium | $60.00 $19.99 |
| College Royal Heather | Large | $60.00 $19.99 |
| College Royal Heather | X-Large | $60.00 $19.99 |
| College Royal Heather | 2X-Large | $60.00 $19.99 |
| College Royal Heather | 3X-Large | $60.00 $19.99 |
| Dark Grey Heather | Small | $60.00 $19.99 |
| Dark Grey Heather | Medium | $60.00 $19.99 |
| Dark Grey Heather | Large | $60.00 $19.99 |
| Dark Grey Heather | X-Large | $60.00 $19.99 |
| Dark Grey Heather | 2X-Large | $60.00 $19.99 |
| Dark Grey Heather | 3X-Large | $60.00 $19.99 |
remove
remove
remove
remove
remove
remove
remove
remove
remove

Official Hanes Brands Store -- First Quality Authentic

3

$11.21

$8.54

$20.00

$15.95

$10.99

$15.95

$34.98

$19.64

$15.80

-

-

-

-

-

-

-

-

-

Free Shipping

Flat $7.98

Free Shipping

Flat $3.95

Flat $6.5

Flat $2.95

Free Shipping

PayPal

PayPal

PayPal

PayPal

PayPal

PayPal

PayPal

PayPal

PayPal

rdhstore
(896 )
99% Positive feedback

u-sport
(1,000 )
99.5% Positive feedback

Weathergirl87
(175 )
97.4% Positive feedback

brightside15
(2,176 )
100% Positive feedback

Shively Sporting Goods
(49,477 )
99.6% Positive feedback

carolsfabulousfinds
(2,152 )
100% Positive feedback

killa.thrifts.n.ish
(212 )
100% Positive feedback

The Deal Rack
(125,802 )
99.6% Positive feedback

Hanes Brands Outlet
(281,440 )
98.9% Positive feedback

87% Polyester 13% Spandex

Black & Navy: 6.1 oz 100% Cotton; Oxford Grey: 90% Cotton/10% bla

Base Layer, Lightweight, Zipper

Anti-Microbial & Anti Odor, Breathable, Compression, Moisture Wicking, Reflective, Stretch, Sun Protective, Temperature Control



















Make multitasking that bit easier with a headset that's comfortable, stylish, and has superior sound quality. Busy people need their tech to do the work for them.
Shape: Round Stone: moissanite Brand: jewelblue15 Total Carat Weight (1.32 CT Clarity: vs1 Cut Grade: Excellent Color: blueish green Guarantee: Test Positive By Thermal Diamond Testers Country/Region of Manufacture: India
Jewellery makes the perfect gift, whether you're buying for someone special or just treating yourself to something new. With sterling silver and gorgeous gemstones, find pendants and lucky charms for every occasion.
Catch each awesome minute and memory this Spring with the right camera for you. From the great Polaroid to the current advanced, we have a colossal choice to browse, including all the fundamental adornments.