adidas Men's ClimaWarm Team Issue 1/4 Quarter Zip Athletic Fleece Pullover Shirt
Item condition: New without tags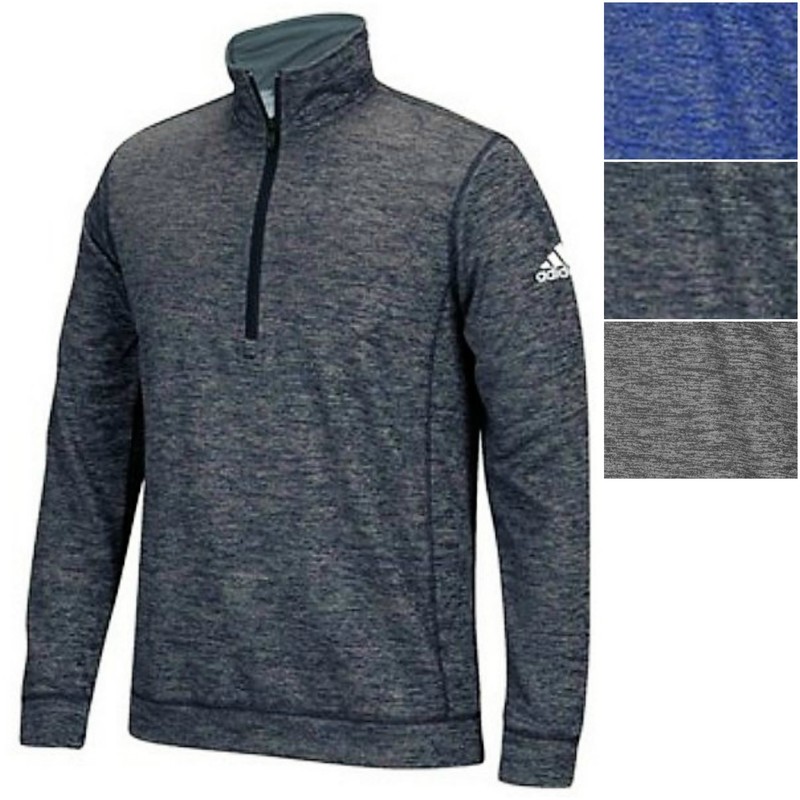 | Color | Size (Men's) | Price |
| --- | --- | --- |
| College Navy Heather | Small | $60.00 $36.99 |
| College Navy Heather | Medium | $60.00 $36.99 |
| College Navy Heather | Large | $60.00 $36.99 |
| College Navy Heather | X-Large | $60.00 $36.99 |
| College Navy Heather | 2X-Large | $60.00 $36.99 |
| College Navy Heather | 3X-Large | $60.00 $36.99 |
| College Royal Heather | Small | $60.00 $36.99 |
| College Royal Heather | Medium | $60.00 $36.99 |
| College Royal Heather | Large | $60.00 $36.99 |
| College Royal Heather | X-Large | $60.00 $36.99 |
| College Royal Heather | 2X-Large | $60.00 $36.99 |
| College Royal Heather | 3X-Large | $60.00 $36.99 |
| Dark Grey Heather | Small | $60.00 $36.99 |
| Dark Grey Heather | Medium | $60.00 $36.99 |
| Dark Grey Heather | Large | $60.00 $36.99 |
| Dark Grey Heather | X-Large | $60.00 $36.99 |
| Dark Grey Heather | 2X-Large | $60.00 $36.99 |
| Dark Grey Heather | 3X-Large | $60.00 $36.99 |
remove
remove
remove
remove
remove
remove
remove
remove
remove
remove

$12.99

$22.50

$19.99

$17.99

$31.99

$39.99

$17.99

$18.99

$34.99

$15.99

-

-

-

-

-

-

-

-

-

-

Flat $2.6

Flat $1.99

Free Shipping

Free Shipping

Free Shipping

Flat $3.99

Free Shipping

Free Shipping

Free Shipping

PayPal

PayPal

PayPal

PayPal

PayPal

PayPal

PayPal

PayPal

PayPal

PayPal

Blonde Ambition Boutique
(798 )
100% Positive feedback

BS WHOLESALES
(3,365 )
99.7% Positive feedback

Shively Sporting Goods
(46,782 )
99.6% Positive feedback

diamondsnriches
(1,678 )
99.4% Positive feedback

Trevorv1234
(2,716 )
99.7% Positive feedback

Goldtulip88
(3,994 )
99.1% Positive feedback

Evergreen Finds
(4,149 )
99.9% Positive feedback

tzsolomon
(28 )
100% Positive feedback

Footswagg
(286 )
98.5% Positive feedback

kenrjo
(9,170 )
99.9% Positive feedback

Money back or replacement (buyer's choice)

Money back or replacement (buyer's choice)

Money back or replacement (buyer's choice)

Auto Racing, Baseball & Softball, Basketball, Bowling, Camping & Hiking, Crossfit, Cycling, Equestrian, Fishing, Fitness, Football, Golf, Gymnastics, Hockey, Hunting, Lacrosse, Martial Arts, Paintball, Polo, Rugby, Running, Skateboarding, Ski & Snow, Tennis

Baseball & Softball, Basketball, Bowling, Camping & Hiking, Crossfit, Cycling, Fitness, Golf, Running, Skateboarding, Soccer, Tennis, Yoga

Breathable, Compression, Moisture Wicking, Temperature Control





















The end of the year with snow. Many people were preparing to welcome the festive fun. The upcoming Whether it is Christmas And celebrate the New Year. And close enough to the day of this year. I Wanna Party
You look at the time class is going to begin. You scoop your books and pencils into your sack and get moving. From addresses to late-night study sessions, your pack has your back. Tough and snazzy, it's a flawless fit for all your doled out perusing, essential contraptions and obviously, a lot of pens. This year, come to class arranged with a la mode essentials, from rucksacks to pencil cases. What's more, tidy up your back-to-class with this accumulation of sacks and adornments.
Toss on some brilliantly shaded running shoes and have an enthusiastic begin to your New Year. Whatever you want to do – conditioning your tummy with a weighted hula loop or expanding your cardio with a sprint – make certain to practice in st
I always try and give best customer service more then my level best to provide best shopping experience to each of my client One stop shop for all your customized jewelry needs available
Ten minutes till class. What's more, the whole grounds to get over. You push off and drift over the quad on your board. Slipping into class just before the educator checks participation. Riding a bicycle, skateboard, or bike to class can be an unfathomably energizing and liberating minute in a generally deskbound day an opportunity to practice your body notwithstanding your psyche. So school more quick witted with these option methods of grounds transport.