Alpine Swiss Kilian Mesh Sneakers Casual Shoes Mens & Womens Lightweight Trainer
Item condition: New with box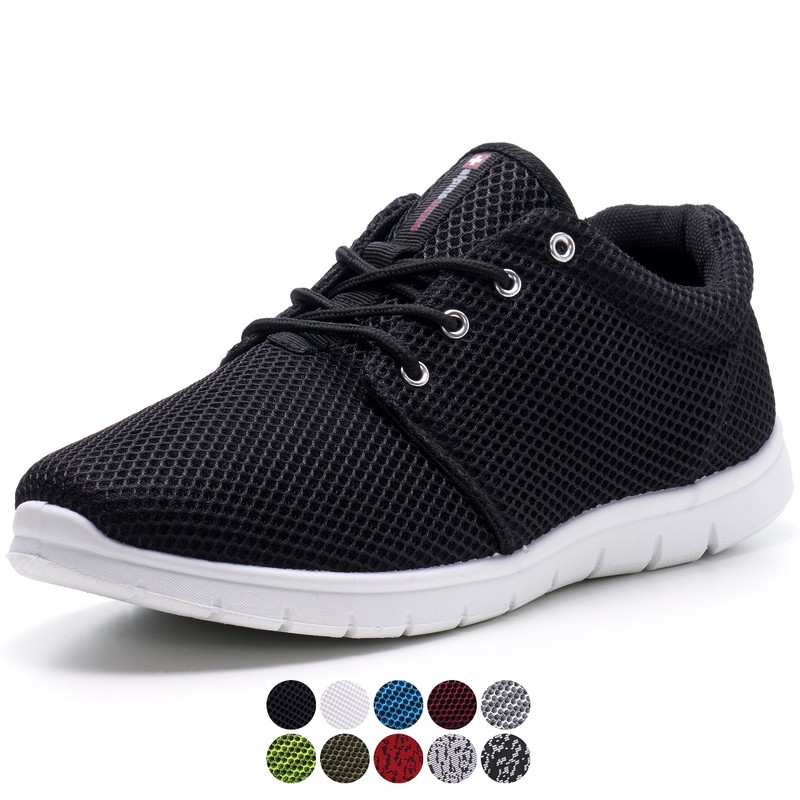 Fit is True to Size - Half Sizes Round Up
| US Shoe Size (Men's) | Color | Price |
| --- | --- | --- |
| Size 5 | Black | $75.00 $17.99 |
| Size 6 | Black | $75.00 $17.99 |
| Size 7 | Black | $75.00 $17.99 |
| Size 8 | Black | $75.00 $17.99 |
| Size 9 | Black | $75.00 $17.99 |
| Size 10 | Black | $75.00 $17.99 |
| Size 11 | Black | $75.00 $17.99 |
| Size 12 | Black | $75.00 $17.99 |
| Size 13 | Black | $75.00 $17.99 |
| Size 5 | White | $75.00 $17.99 |
| Size 6 | White | $75.00 $17.99 |
| Size 7 | White | $75.00 $17.99 |
| Size 8 | White | $75.00 $17.99 |
| Size 9 | White | $75.00 $17.99 |
| Size 10 | White | $75.00 $17.99 |
| Size 11 | White | $75.00 $17.99 |
| Size 12 | White | $75.00 $17.99 |
| Size 13 | White | $75.00 $17.99 |
| Size 5 | Gray | $75.00 $17.99 |
| Size 6 | Gray | $75.00 $17.99 |
| Size 7 | Gray | $75.00 $17.99 |
| Size 8 | Gray | $75.00 $17.99 |
| Size 9 | Gray | $75.00 $17.99 |
| Size 10 | Gray | $75.00 $17.99 |
| Size 11 | Gray | $75.00 $17.99 |
| Size 12 | Gray | $75.00 $17.99 |
| Size 13 | Gray | $75.00 $17.99 |
| Size 5 | Lime | $75.00 $17.99 |
| Size 6 | Lime | $75.00 $17.99 |
| Size 7 | Lime | $75.00 $17.99 |
| Size 8 | Lime | $75.00 $17.99 |
| Size 9 | Lime | $75.00 $17.99 |
| Size 10 | Lime | $75.00 $17.99 |
| Size 11 | Lime | $75.00 $17.99 |
| Size 12 | Lime | $75.00 $17.99 |
| Size 13 | Lime | $75.00 $17.99 |
| Size 5 | Blue | $75.00 $17.99 |
| Size 6 | Blue | $75.00 $17.99 |
| Size 7 | Blue | $75.00 $17.99 |
| Size 8 | Blue | $75.00 $17.99 |
| Size 9 | Blue | $75.00 $17.99 |
| Size 10 | Blue | $75.00 $17.99 |
| Size 11 | Blue | $75.00 $17.99 |
| Size 12 | Blue | $75.00 $17.99 |
| Size 13 | Blue | $75.00 $17.99 |
| Size 9 | Green | $75.00 $17.99 |
| Size 8 | Green | $75.00 $17.99 |
| Size 7 | Green | $75.00 $17.99 |
| Size 6 | Green | $75.00 $17.99 |
| Size 9 | Burgundy | $75.00 $17.99 |
| Size 5 | Burgundy | $75.00 $17.99 |
| Size 8 | Burgundy | $75.00 $17.99 |
| Size 5 | Green | $75.00 $17.99 |
| Size 13 | Green | $75.00 $17.99 |
| Size 12 | Green | $75.00 $17.99 |
| Size 11 | Green | $75.00 $17.99 |
| Size 10 | Green | $75.00 $17.99 |
| Size 7 | Burgundy | $75.00 $17.99 |
| Size 6 | Burgundy | $75.00 $17.99 |
| Size 13 | Burgundy | $75.00 $17.99 |
| Size 12 | Burgundy | $75.00 $17.99 |
| Size 11 | Burgundy | $75.00 $17.99 |
| Size 10 | Burgundy | $75.00 $17.99 |
| Size 10 | Pixel Knit White | $75.00 $17.99 |
| Size 12 | Pixel Knit Black | $75.00 $17.99 |
| Size 11 | Pixel Knit Black | $75.00 $17.99 |
| Size 10 | Pixel Knit Black | $75.00 $17.99 |
| Size 11 | Pixel Knit Red | $75.00 $17.99 |
| Size 10 | Pixel Knit Red | $75.00 $17.99 |
| Size 11 | Pixel Knit White | $75.00 $17.99 |
| Size 9 | Pixel Knit White | $75.00 $17.99 |
| Size 12 | Pixel Knit Red | $75.00 $17.99 |
| Size 13 | Pixel Knit Red | $75.00 $17.99 |
| Size 5 | Pixel Knit White | $75.00 $17.99 |
| Size 13 | Pixel Knit Black | $75.00 $17.99 |
| Size 13 | Pixel Knit White | $75.00 $17.99 |
| Size 6 | Pixel Knit White | $75.00 $17.99 |
| Size 12 | Pixel Knit White | $75.00 $17.99 |
| Size 8 | Pixel Knit Black | $75.00 $17.99 |
| Size 7 | Pixel Knit Black | $75.00 $17.99 |
| Size 7 | Pixel Knit White | $75.00 $17.99 |
| Size 8 | Pixel Knit Red | $75.00 $17.99 |
| Size 9 | Pixel Knit Red | $75.00 $17.99 |
| Size 8 | Pixel Knit White | $75.00 $17.99 |
| Size 7 | Pixel Knit Red | $75.00 $17.99 |
| Size 6 | Pixel Knit Black | $75.00 $17.99 |
| Size 9 | Pixel Knit Black | $75.00 $17.99 |
| Size 5 | Pixel Knit Red | $75.00 $17.99 |
| Size 5 | Pixel Knit Black | $75.00 $17.99 |
| Size 6 | Pixel Knit Red | $75.00 $17.99 |
remove
remove
remove
remove
remove
remove
remove
remove
remove
remove

Half Sizes Round Up

$12.49

$19.00

$12.99

$9.89

$16.99

$13.79

$13.75

$11.69

$29.99

$15.47

-

-

-

-

-

-

-

-

-

-

Flat $1.39

Free Shipping

Free Shipping

Free Shipping

Free Shipping

Free Shipping

Free Shipping

Free Shipping

PayPal

PayPal

PayPal

PayPal

PayPal

PayPal

PayPal

PayPal

PayPal

PayPal

hothair8811
(17,244 )
98.9% Positive feedback

simpleshoppingplus
(1 )
100% Positive feedback

yanbiantian
(100 )
100% Positive feedback

top_lianl
(2,539 )
98.5% Positive feedback

EllevenFashion
(395 )
95.3% Positive feedback

MASS21sexylingerie
(2,682 )
96.7% Positive feedback

happy_soles
(970 )
100% Positive feedback

yanbiantian2019
(49 )
100% Positive feedback

Art of Deals
(543,077 )
99.1% Positive feedback

longyanshoes
(48 )
100% Positive feedback

Money back or replacement (buyer's choice)

EUR 39,EUR 40,EUR 41,EUR 42,EUR 43,EUR 44

Lightweight, Slip Resistant

Lightweight, Slip Resistant, Waterproof





















Ian Fraser "Lemmy" was an English musician, singer, and songwriter who founded and led the rock band Motörhead. His music and lifestyle was a distinctive part of the heavy metal genre.
Filled with shiny, detailed pieces, your Diecast car collection is a shrine to the vehicular masterpieces of yesterday. Complete your fleet with pristine-condition replicas of classic motorcars, available at a great price here
Toss on some brilliantly shaded running shoes and have an enthusiastic begin to your New Year. Whatever you want to do – conditioning your tummy with a weighted hula loop or expanding your cardio with a sprint – make certain to practice in st
Pick up your Huawei smartphone with delight. Replying to a text or catching up on social media has never felt this good. Enter another galaxy of mobile phone technology with the latest handsets from the biggest brands. Be proud of your phone.
Star striker who turned into an individual from the French national group in 2007 and joined Real Madrid in 2009 in the wake of burning through five seasons playing for Lyon; named the French Player of the Year in 2011 and 2012.