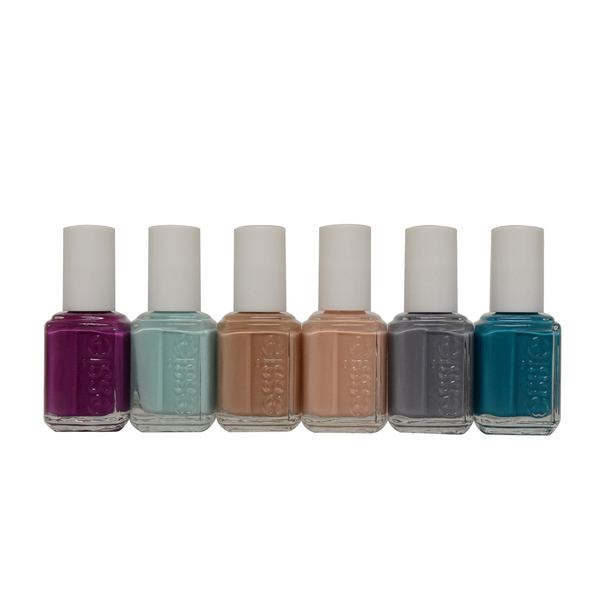 | Color | Price |
| --- | --- |
| After Sex | $4.99 |
| A-list | $4.99 |
| Catwalk | $4.99 |
| Clutch Me If You Can | $4.99 |
| Decadent Diva | $4.99 |
| Exotic Liras | $4.99 |
| Garnet | $4.99 |
| Jag-U-Are | $4.99 |
| Macks | $4.99 |
| Pouf Daddy | $4.99 |
| Rock The Croc | $4.99 |
| Room With A View | $4.99 |
| Rose Bowl | $4.99 |
| Swing Velvet | $4.99 |
| Trombone | $4.99 |
| Wild Thing | $4.99 |
| Suit Retreat #900 | $4.99 |
| Time For Me Time #898 | $4.99 |
| Stones N Roses #899 | $4.99 |
| Cocoa Karma #897 | $4.99 |
| Perenial Chic #905 | $4.99 |
| Picked Perfect #906 | $4.99 |
| Blossom Dandy #902 | $4.99 |
| Garden Variety #904 | $4.99 |
| Flowerista #901 | $4.99 |
| Petal Pushers #903 | $4.99 |
| Borrowed & Blue #746 | $4.99 |
| Hip Anema #826 | $4.99 |
| Pretty Edgy #725 | $4.99 |
| Jelly Apple #54 | $4.99 |
| Jazz #304 | $4.99 |
| Pop Art Pink #707 | $4.99 |
| Trophy Wife #774 | $4.99 |
| Absolutely Shore #758 | $4.99 |
| Lapis Of Luxury #717 | $4.99 |
| Material Girl #617 | $4.99 |
| Avenue Maintain #822 | $4.99 |
| Sunshine State of Mind #966 | $4.99 |
| Rock the Boat #841 | $4.99 |
| Satin Sister #1003 | $4.99 |
| Leggy Legend #932 | $4.99 |
| School of Hard Rocks #772 | $4.99 |
| Take It Outside #882 | $4.99 |
| Under Where #828 | $4.99 |
| Tour De Finance #787 | $4.99 |
| All Access Pass #916 | $4.99 |
| Vibrant Vibes #914 | $4.99 |
| Hot Coco #735 | $4.99 |
| Good as Gold #3007 | $4.99 |
| Bond With Whomever #823 | $4.99 |
| Raspberry #89 | $4.99 |
| lollipop #703 | $4.99 |
| Altitude Attitude #942 | $4.99 |
| Strasse‑Her #824 | $4.99 |
| Apres‑Chic #939 | $4.99 |
| Going Guru #956 | $4.99 |
| Coacha'bella #917 | $4.99 |
| Frock N Roll #937 | $4.99 |
| With the Band #934 | $4.99 |
| Melody Maker #915 | $4.99 |
remove
remove
remove
remove
remove
remove
remove
remove

$3.00

$3.69

$7.24

$4.19

$2.95

$4.56

$2.99

$3.75

-

-

-

-

-

-

-

-

Free Shipping

Free Shipping

Free Shipping

Free Shipping

Flat $3.25

Flat $1.95

PayPal

PayPal

PayPal

PayPal

PayPal

PayPal

PayPal

PayPal

iGlamz
(88 )
98.6% Positive feedback

Comics and Electronics by dheader
(65,710 )
99.9% Positive feedback

thereynailsupply
(4,840 )
99.5% Positive feedback

Shelbeansx
(6,747 )
98.5% Positive feedback

doitallmom09
(1,717 )
100% Positive feedback

prismatic nails
(3,483 )
99.8% Positive feedback

Top Nail Shop
(366,790 )
99.3% Positive feedback

Bozych Treasure Chest
(2,118 )
100% Positive feedback

















Pick up your Huawei smartphone with delight. Replying to a text or catching up on social media has never felt this good. Enter another galaxy of mobile phone technology with the latest handsets from the biggest brands. Be proud of your phone.
The end of the year with snow. Many people were preparing to welcome the festive fun. The upcoming Whether it is Christmas And celebrate the New Year. And close enough to the day of this year. I Wanna Party
The Case Closed anime series, known as Meitantei Conan lit. Great Detective Conan, officially translated as Detective Conan) in its original release in Japan, is based on the manga series of the same name by Gosho Aoyama. It was localized in English as Case Closed by Funimation due to unspecified legal problems. The anime is produced by TMS Entertainment and Yomiuri Telecasting Corporation with the chief directors being Kenji Kodama and Yasuichiro Yamamoto. The series follows the teenage detective Jimmy Kudo, who transforms into a child after being poisoned with APTX 4869 by the Black Organization. Now named Conan Edogawa and living with the Moores, Conan solves murders during his daily life as he awaits the day to defeat the Black Organization.
Excel and begin arranging a New Year with a wonderful organizer. Go down the rabbit opening with Alice, or move on board the transport with Totoro – every one of your top picks will be with you consistently to monitor your considerations and dream