LOreal Paris Superior Preference Permanent Hair Color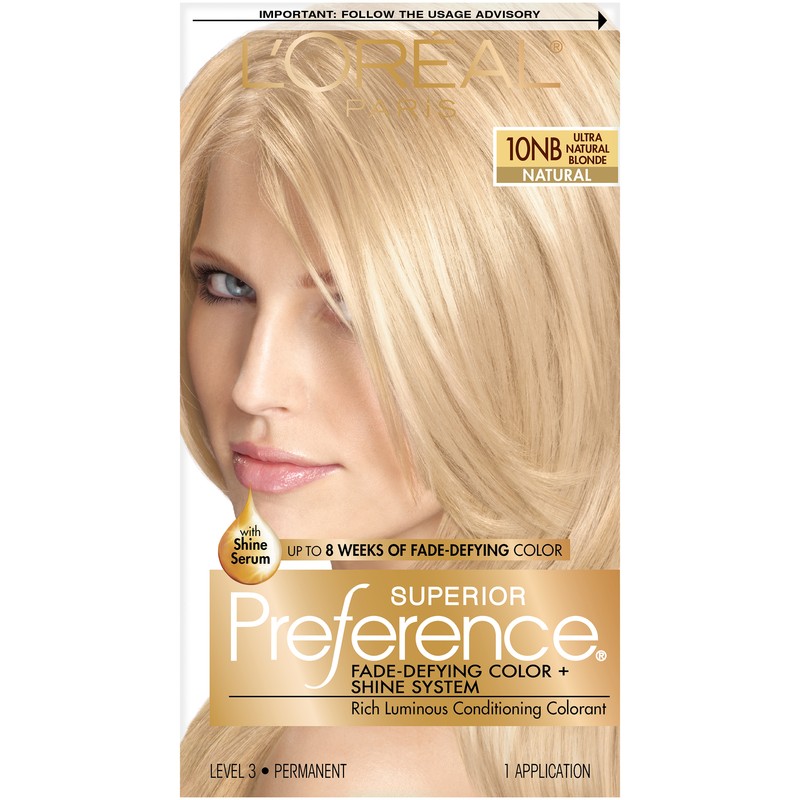 Official L'Oreal Paris Store - Free Shipping
| Shade | Price |
| --- | --- |
| 10NB Ultra Natural Blonde | $9.99 $8.99 |
| 5.5AM Medium Copper Brown | $9.99 $8.99 |
| 7.5A Medium Ash Blonde | $9.99 $8.99 |
| 4 Dark Brown | $9.99 $8.99 |
| 8.5A Champagne Blonde | $9.99 $8.99 |
| 5CG Iced Golden Brown | $9.99 $8.99 |
| 6AB Chic Auburn Brown | $9.99 $8.99 |
| 3C Cool Darkest Brown | $9.99 $8.99 |
| 4C Cool Dark Brown | $9.99 $8.99 |
| 5G Medium Golden Brown | $9.99 $8.99 |
| 4G Dark Golden Brown | $9.99 $8.99 |
| 4B Burgundy | $9.99 $8.99 |
| 4M Dark Mahogany Brown | $9.99 $8.99 |
| 4SM Dark Soft Mahogany Brown | $9.99 $8.99 |
| 5 Medium Brown | $9.99 $8.99 |
| 6A Light Ash Brown | $9.99 $8.99 |
| 9G Light Golden Blonde | $9.99 $8.99 |
| 9.5NB Lightest Natural Blonde | $9.99 $8.99 |
| UL63 Hi-Lift Gold Brown | $9.99 $8.99 |
| 6AM Light Amber Brown | $9.99 $8.99 |
| 7LA Lightest Auburn | $9.99 $8.99 |
| UL61 Ultra Light Ash Brown | $9.99 $8.99 |
| LB01 Extra Light Ash Blonde | $9.99 $8.99 |
| 2 Purest Black | $9.99 $8.99 |
| 1BL Deep Blue Black | $9.99 $8.99 |
| 5C Cool Medium Brown | $9.99 $8.99 |
| 6C Cool Light Brown | $9.99 $8.99 |
| 9 Natural Blonde | $9.99 $8.99 |
| 3 Soft Black | $9.99 $8.99 |
| 4R Dark Auburn | $9.99 $8.99 |
| 5A Medium Ash Brown | $9.99 $8.99 |
| 6 Light Brown | $9.99 $8.99 |
| 6R Light Auburn | $9.99 $8.99 |
| 8A Ash Blonde | $9.99 $8.99 |
| 9A Light Ash Blonde | $9.99 $8.99 |
| UL51 Hi-Lift Natural Brown | $9.99 $8.99 |
| 7 Dark Blonde | $9.99 $8.99 |
| 7A Dark Ash Blonde | $9.99 $8.99 |
| 3DB Deep Burgundy | $9.99 $8.99 |
| 5CB Medium Chestnut Brown | $9.99 $8.99 |
| 1.0 Ultimate Black | $9.99 $8.99 |
| 2BL Black Sapphire | $9.99 $8.99 |
| 6.5G Lightest Golden Brown | $9.99 $8.99 |
| RR-04 Intense Dark Red | $9.99 $8.99 |
| RR-07 Intense Red Copper | $9.99 $8.99 |
| LB02 Extra Light Natural Blonde | $9.99 $8.99 |
| 4A Dark Ash Brown | $9.99 $8.99 |
| 5MB Medium Auburn | $9.99 $8.99 |
| 8 Medium Blonde | $9.99 $8.99 |
| 8G Golden Blonde | $9.99 $8.99 |
| 9GR Light Golden Reddish Blonde | $9.99 $8.99 |
| 9.5A Lightest Ash Blonde | $9.99 $8.99 |
| 7RB Dark Rose Blonde | $9.99 $8.99 |
| 8RB Medium Rose Blonde | $9.99 $8.99 |
| 8RG Rose Gold Blonde | $9.99 $8.99 |
| UL51 Hi-Lift Natural Brown 3-Pack | $29.97 $24.27 |
| 6A Light Ash Brown 3-Pack | $29.97 $24.27 |
| 8 Medium Blonde 3-Pack | $29.97 $24.27 |
| 8.5A Champagne Blonde 3-Pack | $29.97 $24.27 |
| 5G Medium Golden Brown 3-Pack | $29.97 $24.27 |
| 4R Dark Auburn 3-Pack | $29.97 $24.27 |
| 6 Light Brown 3-Pack | $29.97 $24.27 |
| 4 Dark Brown 3-Pack | $29.97 $24.27 |
| 6R Light Auburn 3-Pack | $29.97 $24.27 |
| LB01 Extra Light Ash Blonde 3-Pack | $29.97 $24.27 |
| LB02 Extra Light Natural Blonde 3-Pack | $29.97 $24.27 |
| 6.5G Lightest Golden Brown 3-Pack | $29.97 $24.27 |
| 6AM Light Amber Brown 3-Pack | $29.97 $24.27 |
| UL61 Ultra Light Ash Brown 3-Pack | $29.97 $24.27 |
| RR-07 Intense Red Copper 3-Pack | $29.97 $24.27 |
| 9GR Light Golden Reddish Blonde 3-Pack | $29.97 $24.27 |
| 4A Dark Ash Brown 3-Pack | $29.97 $24.27 |
| 7.5A Medium Ash Blonde 3-Pack | $29.97 $24.27 |
| 8G Golden Blonde 3-Pack | $29.97 $24.27 |
| 9.5A Lightest Ash Blonde 3-Pack | $29.97 $24.27 |
| 9A Light Ash Blonde 3-Pack | $29.97 $24.27 |
| 9.5NB Lightest Natural Blonde 3-Pack | $29.97 $24.27 |
| 6AB Chic Auburn Brown 3-Pack | $29.97 $24.27 |
remove
remove
remove
remove
remove
remove
remove
remove
remove
remove

FREE SHIPPING on orders over $25

$7.99

$6.49

$6.77

$3.29

$13.80

$5.95

$6.33

$6.99

$14.99

$6.78

-

-

-

-

-

-

-

-

-

-

Free Shipping

Free Shipping

Flat $2.5

Free Shipping

Free Shipping

Flat $6.5

Free Shipping

Free Shipping

Flat $5.99

Free Shipping

PayPal

PayPal

PayPal

PayPal

PayPal

PayPal

PayPal

PayPal

PayPal

PayPal

ToDaTaLa
(37,215 )
99.6% Positive feedback

Thai-electronickits
(4,498 )
97.9% Positive feedback

The Dapper Dino
(586 )
100% Positive feedback

plowlive-fashion
(33,732 )
98.4% Positive feedback

ALittleOfEverything12
(131,746 )
99.2% Positive feedback

trokneo
(140 )
100% Positive feedback

bigbigshow2012
(67,312 )
98% Positive feedback

beautyproplus13
(886 )
99.7% Positive feedback

thevitaminshoppe
(43,314 )
96.8% Positive feedback

Top Notch Center
(890 )
98.2% Positive feedback

Money back or replacement (buyer's choice)

Money back or replacement (buyer's choice)

Permanent Color - Gray Coverage

Contains Cera-Oil, Alcohol-Free, Ammonia-Free





















Make multitasking that bit easier with a headset that's comfortable, stylish, and has superior sound quality. Busy people need their tech to do the work for them.
You won't have any yearning to leave behind a noteworthy open door when the clock strikes midnight, so make a point to get the monstrously key watch on your wrist before the New Year. Whether you like a routine silver basic or a splendid propelled look, there'll one for you.
Try not to use up every last cent with regards to school shopping. Discover awesome arrangements for all your school unquestionable requirements in tech, dormitory, and the sky is the limit from there - all under $20!
Ian Fraser "Lemmy" was an English musician, singer, and songwriter who founded and led the rock band Motörhead. His music and lifestyle was a distinctive part of the heavy metal genre.
I always try and give best customer service more then my level best to provide best shopping experience to each of my client One stop shop for all your customized jewelry needs available