LOreal Paris Superior Preference Permanent Hair Color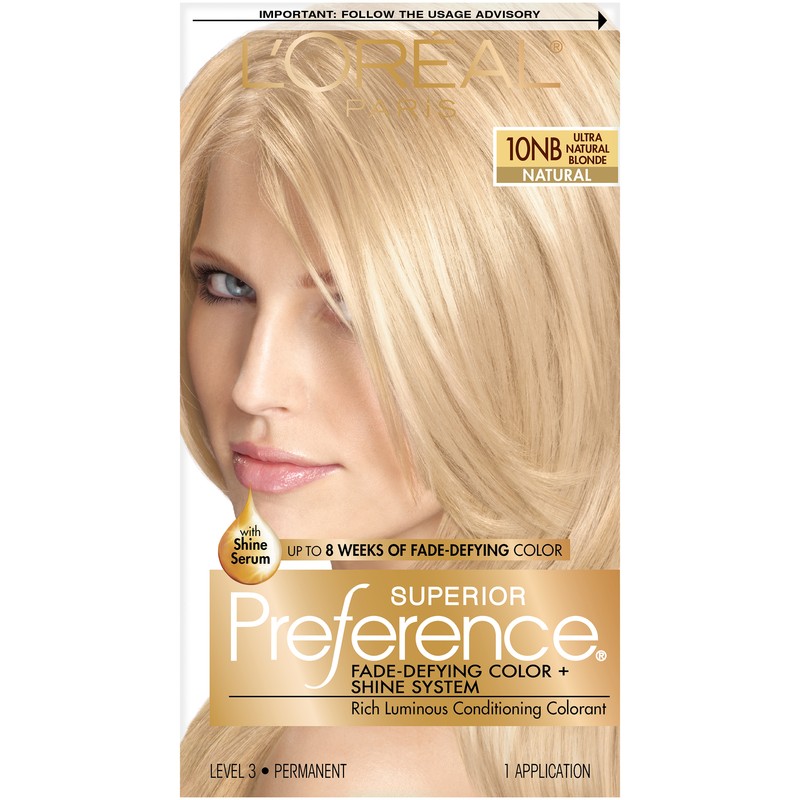 SALE-Spend $15 and Get 10% OFF Everything-FREE Shipping
| Shade | Price |
| --- | --- |
| 10NB Ultra Natural Blonde | $9.99 $8.99 |
| 5.5AM Medium Copper Brown | $9.99 $8.99 |
| 7.5A Medium Ash Blonde | $9.99 $8.99 |
| 4 Dark Brown | $9.99 $8.99 |
| 8.5A Champagne Blonde | $9.99 $8.99 |
| 5CG Iced Golden Brown | $9.99 $8.99 |
| 6AB Chic Auburn Brown | $9.99 $8.99 |
| 3C Cool Darkest Brown | $9.99 $8.99 |
| 4C Cool Dark Brown | $9.99 $8.99 |
| 5G Medium Golden Brown | $9.99 $8.99 |
| 4G Dark Golden Brown | $9.99 $8.99 |
| 4B Burgundy | $9.99 $8.99 |
| 4M Dark Mahogany Brown | $9.99 $8.99 |
| 4SM Dark Soft Mahogany Brown | $9.99 $8.99 |
| 5 Medium Brown | $9.99 $8.79 |
| 6A Light Ash Brown | $9.99 $8.99 |
| 9G Light Golden Blonde | $9.99 $8.99 |
| 9.5NB Lightest Natural Blonde | $9.99 $8.99 |
| UL63 Hi-Lift Gold Brown | $9.99 $8.99 |
| 6AM Light Amber Brown | $9.99 $8.99 |
| 7LA Lightest Auburn | $9.99 $8.99 |
| UL61 Ultra Light Ash Brown | $9.99 $8.99 |
| LB01 Extra Light Ash Blonde | $9.99 $8.99 |
| 2 Purest Black | $9.99 $8.99 |
| 1BL Deep Blue Black | $9.99 $8.99 |
| 5C Cool Medium Brown | $9.99 $8.99 |
| 6C Cool Light Brown | $9.99 $8.99 |
| 9 Natural Blonde | $9.99 $8.99 |
| 3 Soft Black | $9.99 $8.99 |
| 4R Dark Auburn | $9.99 $8.99 |
| 5A Medium Ash Brown | $9.99 $8.99 |
| 6 Light Brown | $9.99 $8.99 |
| 6R Light Auburn | $9.99 $8.99 |
| 8A Ash Blonde | $9.99 $8.99 |
| 9A Light Ash Blonde | $9.99 $8.99 |
| UL51 Hi-Lift Natural Brown | $9.99 $8.99 |
| 7 Dark Blonde | $9.99 $8.99 |
| 7A Dark Ash Blonde | $9.99 $7.49 |
| 3DB Deep Burgundy | $9.99 $8.99 |
| 5CB Medium Chestnut Brown | $9.99 $8.99 |
| 1.0 Ultimate Black | $9.99 $8.99 |
| 2BL Black Sapphire | $9.99 $8.99 |
| 6.5G Lightest Golden Brown | $9.99 $8.99 |
| RR-04 Intense Dark Red | $9.99 $8.99 |
| RR-07 Intense Red Copper | $9.99 $8.99 |
| LB02 Extra Light Natural Blonde | $9.99 $8.99 |
| 4A Dark Ash Brown | $9.99 $8.99 |
| 5MB Medium Auburn | $9.99 $8.99 |
| 8 Medium Blonde | $9.99 $8.99 |
| 8G Golden Blonde | $9.99 $8.99 |
| 9GR Light Golden Reddish Blonde | $9.99 $8.99 |
| 9.5A Lightest Ash Blonde | $9.99 $8.99 |
| 7RB Dark Rose Blonde | $9.99 $8.99 |
| 8RB Medium Rose Blonde | $9.99 $8.99 |
| 8RG Rose Gold Blonde | $9.99 $8.99 |
| UL51 Hi-Lift Natural Brown 3-Pack | $29.97 $20.97 |
| 6A Light Ash Brown 3-Pack | $29.97 $20.97 |
| 8 Medium Blonde 3-Pack | $29.97 $20.97 |
| 8.5A Champagne Blonde 3-Pack | $29.97 $20.97 |
| 5G Medium Golden Brown 3-Pack | $29.97 $20.97 |
| 4R Dark Auburn 3-Pack | $29.97 $20.97 |
| 6 Light Brown 3-Pack | $29.97 $20.97 |
| 4 Dark Brown 3-Pack | $29.97 $20.97 |
| 6R Light Auburn 3-Pack | $29.97 $20.97 |
| LB01 Extra Light Ash Blonde 3-Pack | $29.97 $20.97 |
| LB02 Extra Light Natural Blonde 3-Pack | $29.97 $20.97 |
| 6.5G Lightest Golden Brown 3-Pack | $29.97 $20.97 |
| 6AM Light Amber Brown 3-Pack | $29.97 $20.97 |
| UL61 Ultra Light Ash Brown 3-Pack | $29.97 $20.97 |
| RR-07 Intense Red Copper 3-Pack | $29.97 $20.97 |
| 9GR Light Golden Reddish Blonde 3-Pack | $29.97 $20.97 |
| 4A Dark Ash Brown 3-Pack | $29.97 $20.97 |
| 7.5A Medium Ash Blonde 3-Pack | $29.97 $20.97 |
| 8G Golden Blonde 3-Pack | $29.97 $20.97 |
| 9.5A Lightest Ash Blonde 3-Pack | $29.97 $20.97 |
| 9A Light Ash Blonde 3-Pack | $29.97 $20.97 |
| 9.5NB Lightest Natural Blonde 3-Pack | $29.97 $20.97 |
| 6AB Chic Auburn Brown 3-Pack | $29.97 $20.97 |
remove
remove
remove
remove
remove
remove
remove
remove
remove
remove

$5.39

$6.99

$4.45

$7.99

$10.49

$6.35

$7.95

$6.38

$9.39

$3.75

-

-

-

-

-

-

-

-

-

-

Flat $3.74

Free Shipping

Free Shipping

Free Shipping

Free Shipping

Free Shipping

Free Shipping

Free Shipping

Free Shipping

Free Shipping

PayPal

PayPal

PayPal

PayPal

PayPal

PayPal

PayPal

PayPal

PayPal

Just4Games
(14,084 )
100% Positive feedback

DDS n More
(15,072 )
99.2% Positive feedback

mimi18forever
(16,932 )
99.6% Positive feedback

videojam-half
(169,290 )
99% Positive feedback

1992happyhunting
(1,987 )
99.7% Positive feedback

Beckarra
(21,147 )
99.4% Positive feedback

SouthMSBowtique
(977 )
98.6% Positive feedback

mrchuwarehouse
(18,836 )
99.5% Positive feedback

Carolyns Quality Cosmetics
(5,823 )
99.7% Positive feedback

jalclothesnthings
(5,046 )
99.9% Positive feedback

Money back or replacement (buyer's choice)

Money back or replacement (buyer's choice)





















Experience sports, training, shopping and everything else that's new at Nike from any country in the world.
You look at the time class is going to begin. You scoop your books and pencils into your sack and get moving. From addresses to late-night study sessions, your pack has your back. Tough and snazzy, it's a flawless fit for all your doled out perusing, essential contraptions and obviously, a lot of pens. This year, come to class arranged with a la mode essentials, from rucksacks to pencil cases. What's more, tidy up your back-to-class with this accumulation of sacks and adornments.
You won't have any yearning to leave behind a noteworthy open door when the clock strikes midnight, so make a point to get the monstrously key watch on your wrist before the New Year. Whether you like a routine silver basic or a splendid propelled look, there'll one for you.
Catch each awesome minute and memory this Spring with the right camera for you. From the great Polaroid to the current advanced, we have a colossal choice to browse, including all the fundamental adornments.