MLB Authentic On-field Therma Base Hoodie Fleece Collection by MAJESTIC - Men's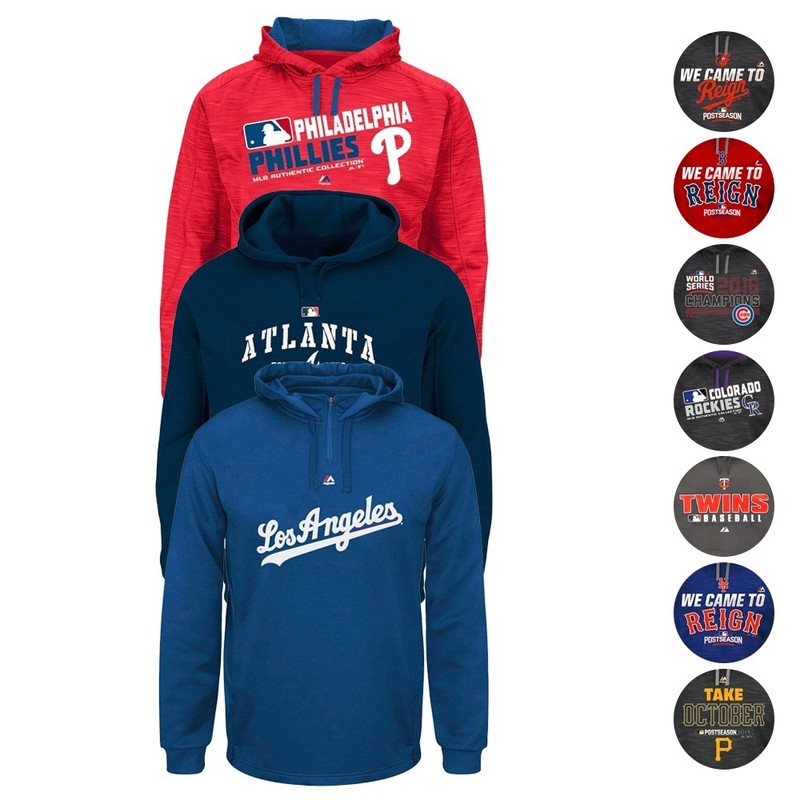 | Team | Color | Size | Price |
| --- | --- | --- | --- |
| PHILADELPHIA PHILLIES | RED | S | $80.00 $39.99 |
| PHILADELPHIA PHILLIES | RED | M | $80.00 $39.99 |
| PHILADELPHIA PHILLIES | RED | L | $80.00 $39.99 |
| PHILADELPHIA PHILLIES | RED | XL | $80.00 $39.99 |
| PHILADELPHIA PHILLIES | RED | 2XL | $80.00 $39.99 |
| MLB ALL-STAR GAME | NAVY | S | $80.00 $39.99 |
| MLB ALL-STAR GAME | NAVY | M | $80.00 $39.99 |
| MLB ALL-STAR GAME | NAVY | XL | $80.00 $39.99 |
| MLB ALL-STAR GAME | NAVY | 2XL | $80.00 $39.99 |
| PHILADELPHIA PHILLIES 2 | RED | M | $80.00 $39.99 |
| PHILADELPHIA PHILLIES 2 | RED | 2XL | $80.00 $39.99 |
| ATLANTA BRAVES | NAVY | L | $39.99 |
| ATLANTA BRAVES | NAVY | XL | $39.99 |
| S | ATLANTA BRAVES 2 | GREY | $39.99 |
| M | ATLANTA BRAVES 2 | GREY | $39.99 |
| L | ATLANTA BRAVES 2 | GREY | $39.99 |
| XL | ATLANTA BRAVES 2 | GREY | $39.99 |
| 2XL | ATLANTA BRAVES 2 | GREY | $39.99 |
| S | ATLANTA BRAVES 3 | NAVY | $39.99 |
| M | ATLANTA BRAVES 3 | NAVY | $39.99 |
| 2XL | ATLANTA BRAVES 3 | NAVY | $39.99 |
| XL | NEW YORK YANKEES | NAVY | $39.99 |
| 2XL | NEW YORK YANKEES | NAVY | $39.99 |
| PITTSBURGH PIRATES | S | BLACK | $39.99 |
| M | PITTSBURGH PIRATES | BLACK | $39.99 |
| L | PITTSBURGH PIRATES | BLACK | $39.99 |
| XL | PITTSBURGH PIRATES | BLACK | $39.99 |
| KANSAS CITY ROYALS | BLACK | S | $39.99 |
| CHICAGO CUBS | BLUE | XL | $39.99 |
| ATLANTA BRAVES 4 | NAVY | 2XL | $39.99 |
| NEW YORK YANKEES 2 | L | GREY | $39.99 |
| MINNESOTA TWINS | M | GREY | $39.99 |
| MINNESOTA TWINS | L | GREY | $39.99 |
| MINNESOTA TWINS | XL | GREY | $39.99 |
| SAN FRANCISCO GIANTS | L | BLACK | $39.99 |
| SAN FRANCISCO GIANTS 2 | BLACK | L | $39.99 |
| SAN FRANCISCO GIANTS 2 | BLACK | 2XL | $39.99 |
| PHILADELPHIA PHILLIES 4 | RED | L | $39.99 |
| PHILADELPHIA PHILLIES 4 | XL | RED | $39.99 |
| KANSAS CITY ROYALS 2 | BLUE | 2XL | $39.99 |
| BOSTON RED SOX | RED | XL | $39.99 |
| NEW YORK YANKEES 2 | GREY | M | $39.99 |
| LA DODGERS | BLUE | M | $39.99 |
| TEXAS RANGERS | GREY | M | $39.99 |
| TEXAS RANGERS | GREY | L | $39.99 |
| COLORADO ROCKIES | BLACK | S | $39.99 |
| COLORADO ROCKIES | BLACK | M | $39.99 |
| COLORADO ROCKIES | BLACK | L | $39.99 |
| COLORADO ROCKIES | BLACK | XL | $39.99 |
| COLORADO ROCKIES | BLACK | 2XL | $39.99 |
| WASHINGTON NATIONALS | GREY | S | $39.99 |
| WASHINGTON NATIONALS | GREY | M | $39.99 |
| WASHINGTON NATIONALS | GREY | L | $39.99 |
| WASHINGTON NATIONALS | GREY | XL | $39.99 |
| WASHINGTON NATIONALS | GREY | 2XL | $39.99 |
| BOSTON RED SOX 2 | RED | S | $39.99 |
| BOSTON RED SOX 2 | RED | M | $39.99 |
| BOSTON RED SOX 2 | RED | 2XL | $39.99 |
| WASHINGTON NATIONALS 2 | RED | S | $39.99 |
| WASHINGTON NATIONALS 2 | RED | M | $39.99 |
| WASHINGTON NATIONALS 2 | RED | L | $39.99 |
| WASHINGTON NATIONALS 2 | RED | XL | $39.99 |
| WASHINGTON NATIONALS 2 | RED | 2XL | $39.99 |
| SAN FRANCISCO GIANTS 3 | BLACK | S | $39.99 |
| SAN FRANCISCO GIANTS 3 | BLACK | M | $39.99 |
| SAN FRANCISCO GIANTS 3 | BLACK | L | $39.99 |
| SAN FRANCISCO GIANTS 3 | BLACK | XL | $39.99 |
| SAN FRANCISCO GIANTS 3 | BLACK | 2XL | $39.99 |
| BALTIMORE ORIOLES | BLACK | S | $39.99 |
| BALTIMORE ORIOLES | BLACK | M | $39.99 |
| BALTIMORE ORIOLES | BLACK | L | $39.99 |
| BALTIMORE ORIOLES | BLACK | XL | $39.99 |
| BALTIMORE ORIOLES | BLACK | 2XL | $39.99 |
| NEW YORK METS | BLUE | S | $39.99 |
| NEW YORK METS | BLUE | M | $39.99 |
| NEW YORK METS | BLUE | L | $39.99 |
| NEW YORK METS | BLUE | XL | $39.99 |
| NEW YORK METS | BLUE | 2XL | $39.99 |
| BOSTON RED SOX 3 | NAVY BLUE | S | $39.99 |
| BOSTON RED SOX 3 | NAVY BLUE | 2XL | $39.99 |
| MINNESOTA TWINS 2 | NAVY BLUE | S | $39.99 |
| MINNESOTA TWINS 2 | NAVY BLUE | M | $39.99 |
| MINNESOTA TWINS 2 | NAVY BLUE | 2XL | $39.99 |
| LOS ANGELES DODGERS | S | BLUE | $39.99 |
| LOS ANGELES DODGERS | L | BLUE | $39.99 |
| LOS ANGELES DODGERS | XL | BLUE | $39.99 |
| LOS ANGELES DODGERS | 2XL | BLUE | $39.99 |
| TORONTO BLUE JAYS | S | GREY | $39.99 |
| TORONTO BLUE JAYS | XL | GREY | $39.99 |
| LOS ANGELES DODGERS 2 | S | BLUE | $39.99 |
| LOS ANGELES DODGERS 2 | M | BLUE | $39.99 |
| LOS ANGELES DODGERS 2 | L | BLUE | $39.99 |
| LOS ANGELES DODGERS 2 | XL | BLUE | $39.99 |
| LOS ANGELES DODGERS 2 | 2XL | BLUE | $39.99 |
| TORONTO BLUE JAYS | GREY | L | $39.99 |
| CHICAGO CUBS 2 | S | BLUE | $39.99 |
| CHICAGO CUBS 2 | M | BLUE | $39.99 |
| CHICAGO CUBS 2 | L | BLUE | $39.99 |
| CHICAGO CUBS 2 | XL | BLUE | $39.99 |
| CHICAGO CUBS 3 | S | GREY | $39.99 |
| CHICAGO CUBS 3 | M | GREY | $39.99 |
| CHICAGO CUBS 3 | L | GREY | $39.99 |
| CHICAGO CUBS 3 | XL | GREY | $39.99 |
| CHICAGO CUBS 3 | 2XL | GREY | $39.99 |
| CHICAGO CUBS 4 | S | GREY | $39.99 |
| CHICAGO CUBS 4 | M | GREY | $39.99 |
| CHICAGO CUBS 4 | L | GREY | $39.99 |
| CHICAGO CUBS 5 | S | RED | $39.99 |
| CHICAGO CUBS 5 | XL | RED | $39.99 |
| CHICAGO CUBS 6 | XL | BLUE | $39.99 |
| CHICAGO CUBS 7 | S | NAVY BLUE | $39.99 |
| CHICAGO CUBS 7 | XL | NAVY BLUE | $39.99 |
| CHICAGO CUBS 7 | 2XL | NAVY BLUE | $39.99 |
| CHICAGO CUBS 8 | S | GREY | $39.99 |
| CHICAGO CUBS 8 | M | GREY | $39.99 |
| CHICAGO CUBS 8 | 2XL | GREY | $39.99 |
| CHICAGO CUBS 9 | S | BLUE | $39.99 |
| CHICAGO CUBS 9 | L | BLUE | $39.99 |
| CHICAGO CUBS 9 | XL | BLUE | $39.99 |
| CHICAGO CUBS 9 | 2XL | BLUE | $39.99 |
| CHICAGO CUBS 10 | S | BLACK | $39.99 |
| CHICAGO CUBS 10 | XL | BLACK | $39.99 |
| CHICAGO CUBS 11 | S | BLACK | $39.99 |
| CHICAGO CUBS 11 | L | BLACK | $39.99 |
| CHICAGO CUBS 11 | XL | BLACK | $39.99 |
| CHICAGO CUBS 11 | 2XL | BLACK | $39.99 |
| CHICAGO CUBS 12 | S | NAVY BLUE | $39.99 |
| CHICAGO CUBS 12 | L | NAVY BLUE | $39.99 |
Experience sports, training, shopping and everything else that's new at Nike from any country in the world.
Here and there you need to at long last give in and get another most loved sack. Begin the year off with a straightforward and useful treat - dull rich cowhide or starch khaki canvas will have you secured for each event.
I always try and give best customer service more then my level best to provide best shopping experience to each of my client One stop shop for all your customized jewelry needs available
It's landed. Get your smooth new iPhone 6 and all the best embellishments. Whether you're beginning the gathering with bluetooth speakers, following your run, or picking a vivid case and stand, your telephone can be completely customized to you.