MLB Authentic On-field Therma Base Hoodie Fleece Collection by MAJESTIC - Men's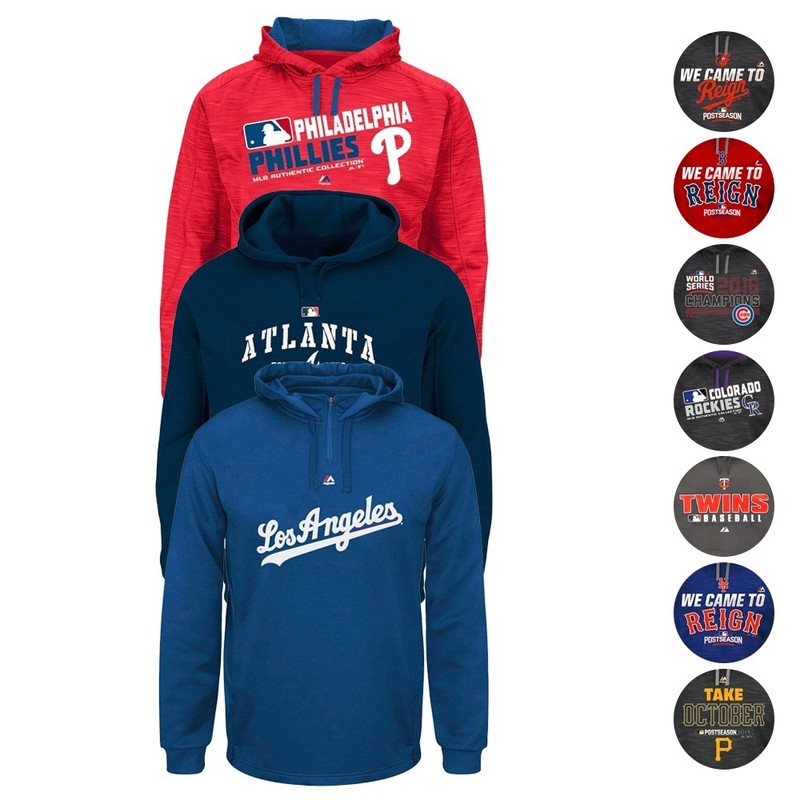 | Team | Color | Size | Price |
| --- | --- | --- | --- |
| PHILADELPHIA PHILLIES | RED | S | $70.00 $39.99 |
| PHILADELPHIA PHILLIES | RED | M | $70.00 $39.99 |
| PHILADELPHIA PHILLIES | RED | L | $70.00 $39.99 |
| PHILADELPHIA PHILLIES | RED | XL | $70.00 $39.99 |
| PHILADELPHIA PHILLIES | RED | 2XL | $70.00 $39.99 |
| MLB ALL-STAR GAME | NAVY | S | $70.00 $39.99 |
| MLB ALL-STAR GAME | NAVY | M | $70.00 $39.99 |
| MLB ALL-STAR GAME | NAVY | XL | $70.00 $39.99 |
| MLB ALL-STAR GAME | NAVY | 2XL | $70.00 $39.99 |
| PHILADELPHIA PHILLIES 2 | RED | M | $70.00 $39.99 |
| PHILADELPHIA PHILLIES 2 | RED | 2XL | $70.00 $39.99 |
| ATLANTA BRAVES | NAVY | L | $70.00 $39.99 |
| ATLANTA BRAVES | NAVY | XL | $70.00 $39.99 |
| S | ATLANTA BRAVES 2 | GREY | $70.00 $39.99 |
| M | ATLANTA BRAVES 2 | GREY | $70.00 $39.99 |
| L | ATLANTA BRAVES 2 | GREY | $70.00 $39.99 |
| XL | ATLANTA BRAVES 2 | GREY | $70.00 $39.99 |
| 2XL | ATLANTA BRAVES 2 | GREY | $70.00 $39.99 |
| S | ATLANTA BRAVES 3 | NAVY | $70.00 $39.99 |
| M | ATLANTA BRAVES 3 | NAVY | $70.00 $39.99 |
| 2XL | ATLANTA BRAVES 3 | NAVY | $70.00 $39.99 |
| XL | NEW YORK YANKEES | NAVY | $70.00 $39.99 |
| 2XL | NEW YORK YANKEES | NAVY | $70.00 $39.99 |
| PITTSBURGH PIRATES | S | BLACK | $70.00 $39.99 |
| M | PITTSBURGH PIRATES | BLACK | $70.00 $39.99 |
| L | PITTSBURGH PIRATES | BLACK | $70.00 $39.99 |
| XL | PITTSBURGH PIRATES | BLACK | $70.00 $39.99 |
| KANSAS CITY ROYALS | BLACK | S | $70.00 $39.99 |
| CHICAGO CUBS | BLUE | XL | $70.00 $39.99 |
| ATLANTA BRAVES 4 | NAVY | 2XL | $70.00 $39.99 |
| NEW YORK YANKEES 2 | L | GREY | $70.00 $39.99 |
| MINNESOTA TWINS | M | GREY | $70.00 $39.99 |
| MINNESOTA TWINS | L | GREY | $70.00 $39.99 |
| MINNESOTA TWINS | XL | GREY | $70.00 $39.99 |
| SAN FRANCISCO GIANTS | L | BLACK | $70.00 $39.99 |
| SAN FRANCISCO GIANTS 2 | BLACK | L | $70.00 $39.99 |
| SAN FRANCISCO GIANTS 2 | BLACK | 2XL | $70.00 $39.99 |
| PHILADELPHIA PHILLIES 4 | RED | L | $70.00 $39.99 |
| PHILADELPHIA PHILLIES 4 | XL | RED | $70.00 $39.99 |
| KANSAS CITY ROYALS 2 | BLUE | 2XL | $70.00 $39.99 |
| BOSTON RED SOX | RED | XL | $70.00 $39.99 |
| NEW YORK YANKEES 2 | GREY | M | $70.00 $39.99 |
| LA DODGERS | BLUE | M | $70.00 $39.99 |
| TEXAS RANGERS | GREY | M | $70.00 $39.99 |
| TEXAS RANGERS | GREY | L | $70.00 $39.99 |
| COLORADO ROCKIES | BLACK | S | $70.00 $39.99 |
| COLORADO ROCKIES | BLACK | M | $70.00 $39.99 |
| COLORADO ROCKIES | BLACK | L | $70.00 $39.99 |
| COLORADO ROCKIES | BLACK | XL | $70.00 $39.99 |
| COLORADO ROCKIES | BLACK | 2XL | $70.00 $39.99 |
| WASHINGTON NATIONALS | GREY | S | $70.00 $39.99 |
| WASHINGTON NATIONALS | GREY | M | $70.00 $39.99 |
| WASHINGTON NATIONALS | GREY | L | $70.00 $39.99 |
| WASHINGTON NATIONALS | GREY | XL | $70.00 $39.99 |
| WASHINGTON NATIONALS | GREY | 2XL | $70.00 $39.99 |
| BOSTON RED SOX 2 | RED | S | $70.00 $39.99 |
| BOSTON RED SOX 2 | RED | M | $70.00 $39.99 |
| BOSTON RED SOX 2 | RED | 2XL | $70.00 $39.99 |
| WASHINGTON NATIONALS 2 | RED | S | $70.00 $39.99 |
| WASHINGTON NATIONALS 2 | RED | M | $70.00 $39.99 |
| WASHINGTON NATIONALS 2 | RED | L | $70.00 $39.99 |
| WASHINGTON NATIONALS 2 | RED | XL | $70.00 $39.99 |
| WASHINGTON NATIONALS 2 | RED | 2XL | $70.00 $39.99 |
| SAN FRANCISCO GIANTS 3 | BLACK | S | $70.00 $39.99 |
| SAN FRANCISCO GIANTS 3 | BLACK | M | $70.00 $39.99 |
| SAN FRANCISCO GIANTS 3 | BLACK | L | $70.00 $39.99 |
| SAN FRANCISCO GIANTS 3 | BLACK | XL | $70.00 $39.99 |
| SAN FRANCISCO GIANTS 3 | BLACK | 2XL | $70.00 $39.99 |
| BALTIMORE ORIOLES | BLACK | S | $70.00 $39.99 |
| BALTIMORE ORIOLES | BLACK | M | $70.00 $39.99 |
| BALTIMORE ORIOLES | BLACK | L | $70.00 $39.99 |
| BALTIMORE ORIOLES | BLACK | XL | $70.00 $39.99 |
| BALTIMORE ORIOLES | BLACK | 2XL | $70.00 $39.99 |
| NEW YORK METS | BLUE | S | $70.00 $39.99 |
| NEW YORK METS | BLUE | M | $70.00 $39.99 |
| NEW YORK METS | BLUE | L | $70.00 $39.99 |
| NEW YORK METS | BLUE | XL | $70.00 $39.99 |
| NEW YORK METS | BLUE | 2XL | $70.00 $39.99 |
| BOSTON RED SOX 3 | NAVY BLUE | S | $70.00 $39.99 |
| BOSTON RED SOX 3 | NAVY BLUE | 2XL | $70.00 $39.99 |
| MINNESOTA TWINS 2 | NAVY BLUE | S | $70.00 $39.99 |
| MINNESOTA TWINS 2 | NAVY BLUE | M | $70.00 $39.99 |
| MINNESOTA TWINS 2 | NAVY BLUE | 2XL | $70.00 $39.99 |
| LOS ANGELES DODGERS | S | BLUE | $70.00 $39.99 |
| LOS ANGELES DODGERS | L | BLUE | $70.00 $39.99 |
| LOS ANGELES DODGERS | XL | BLUE | $70.00 $39.99 |
| LOS ANGELES DODGERS | 2XL | BLUE | $70.00 $39.99 |
| TORONTO BLUE JAYS | S | GREY | $70.00 $39.99 |
| TORONTO BLUE JAYS | XL | GREY | $70.00 $39.99 |
| LOS ANGELES DODGERS 2 | S | BLUE | $70.00 $39.99 |
| LOS ANGELES DODGERS 2 | M | BLUE | $70.00 $39.99 |
| LOS ANGELES DODGERS 2 | L | BLUE | $70.00 $39.99 |
| LOS ANGELES DODGERS 2 | XL | BLUE | $70.00 $39.99 |
| LOS ANGELES DODGERS 2 | 2XL | BLUE | $70.00 $39.99 |
| TORONTO BLUE JAYS | GREY | L | $70.00 $39.99 |
| CHICAGO CUBS 2 | S | BLUE | $70.00 $39.99 |
| CHICAGO CUBS 2 | M | BLUE | $70.00 $39.99 |
| CHICAGO CUBS 2 | L | BLUE | $70.00 $39.99 |
| CHICAGO CUBS 2 | XL | BLUE | $70.00 $39.99 |
| CHICAGO CUBS 3 | S | GREY | $70.00 $39.99 |
| CHICAGO CUBS 3 | M | GREY | $70.00 $39.99 |
| CHICAGO CUBS 3 | L | GREY | $70.00 $39.99 |
| CHICAGO CUBS 3 | XL | GREY | $70.00 $39.99 |
| CHICAGO CUBS 3 | 2XL | GREY | $70.00 $39.99 |
| CHICAGO CUBS 4 | S | GREY | $70.00 $39.99 |
| CHICAGO CUBS 4 | M | GREY | $70.00 $39.99 |
| CHICAGO CUBS 4 | L | GREY | $70.00 $39.99 |
| CHICAGO CUBS 5 | S | RED | $70.00 $39.99 |
| CHICAGO CUBS 5 | XL | RED | $70.00 $39.99 |
| CHICAGO CUBS 6 | XL | BLUE | $70.00 $39.99 |
| CHICAGO CUBS 7 | S | NAVY BLUE | $70.00 $39.99 |
| CHICAGO CUBS 7 | XL | NAVY BLUE | $70.00 $39.99 |
| CHICAGO CUBS 7 | 2XL | NAVY BLUE | $70.00 $39.99 |
| CHICAGO CUBS 8 | S | GREY | $70.00 $39.99 |
| CHICAGO CUBS 8 | M | GREY | $70.00 $39.99 |
| CHICAGO CUBS 8 | 2XL | GREY | $70.00 $39.99 |
| CHICAGO CUBS 9 | S | BLUE | $70.00 $39.99 |
| CHICAGO CUBS 9 | L | BLUE | $70.00 $39.99 |
| CHICAGO CUBS 9 | XL | BLUE | $70.00 $39.99 |
| CHICAGO CUBS 9 | 2XL | BLUE | $70.00 $39.99 |
| CHICAGO CUBS 10 | S | BLACK | $70.00 $39.99 |
| CHICAGO CUBS 10 | XL | BLACK | $70.00 $39.99 |
| CHICAGO CUBS 11 | S | BLACK | $70.00 $39.99 |
| CHICAGO CUBS 11 | L | BLACK | $70.00 $39.99 |
| CHICAGO CUBS 11 | XL | BLACK | $70.00 $39.99 |
| CHICAGO CUBS 11 | 2XL | BLACK | $70.00 $39.99 |
| CHICAGO CUBS 12 | S | NAVY BLUE | $70.00 $39.99 |
| CHICAGO CUBS 12 | L | NAVY BLUE | $70.00 $39.99 |
ChicSearch - Compatible with your product
Jewellery makes the perfect gift, whether you're buying for someone special or just treating yourself to something new. With sterling silver and gorgeous gemstones, find pendants and lucky charms for every occasion.
For an even, flawless complexion, only the best brushes will do. Opt for baby soft fibres, whether you're applying foundation or contouring with a dusting of blusher. Boost your natural beauty with brushes that give the perfect finish.
Make multitasking that bit easier with a headset that's comfortable, stylish, and has superior sound quality. Busy people need their tech to do the work for them.
Try not to use up every last cent with regards to school shopping. Discover awesome arrangements for all your school unquestionable requirements in tech, dormitory, and the sky is the limit from there - all under $20!
You won't have any yearning to leave behind a noteworthy open door when the clock strikes midnight, so make a point to get the monstrously key watch on your wrist before the New Year. Whether you like a routine silver basic or a splendid propelled look, there'll one for you.