MLB Authentic On-field Therma Base Hoodie Fleece Collection by MAJESTIC - Men's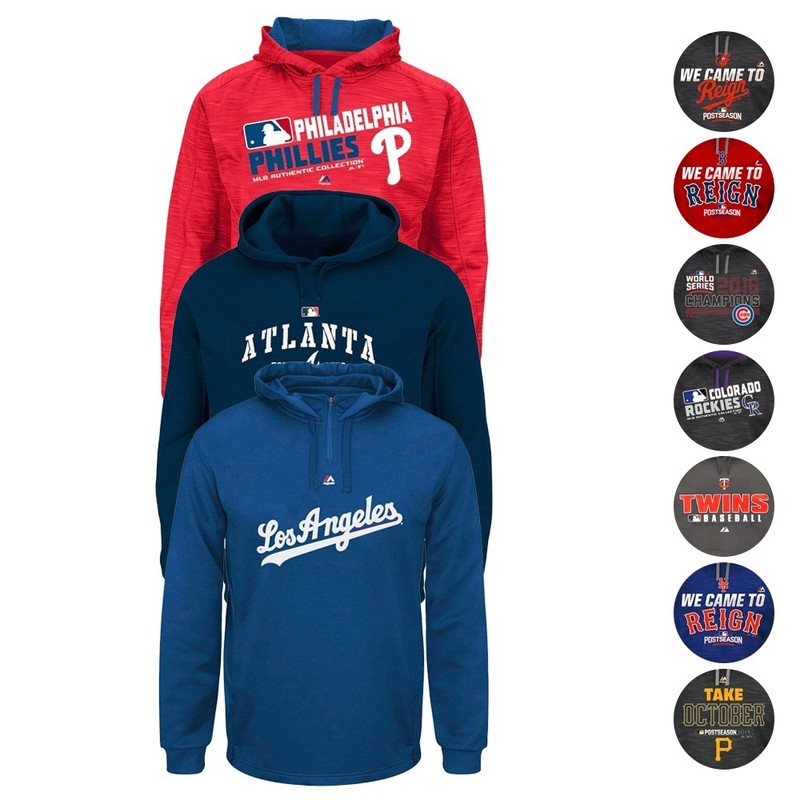 | Team | Color | Size | Price |
| --- | --- | --- | --- |
| PHILADELPHIA PHILLIES | RED | S | $70.00 $29.99 |
| PHILADELPHIA PHILLIES | RED | M | $70.00 $29.99 |
| PHILADELPHIA PHILLIES | RED | L | $70.00 $29.99 |
| PHILADELPHIA PHILLIES | RED | XL | $70.00 $29.99 |
| PHILADELPHIA PHILLIES | RED | 2XL | $70.00 $29.99 |
| MLB ALL-STAR GAME | NAVY | S | $70.00 $29.99 |
| MLB ALL-STAR GAME | NAVY | M | $70.00 $29.99 |
| MLB ALL-STAR GAME | NAVY | XL | $70.00 $29.99 |
| MLB ALL-STAR GAME | NAVY | 2XL | $70.00 $29.99 |
| PHILADELPHIA PHILLIES 2 | RED | M | $70.00 $29.99 |
| PHILADELPHIA PHILLIES 2 | RED | 2XL | $70.00 $29.99 |
| ATLANTA BRAVES | NAVY | L | $70.00 $29.99 |
| ATLANTA BRAVES | NAVY | XL | $70.00 $29.99 |
| S | ATLANTA BRAVES 2 | GREY | $70.00 $29.99 |
| M | ATLANTA BRAVES 2 | GREY | $70.00 $29.99 |
| L | ATLANTA BRAVES 2 | GREY | $70.00 $29.99 |
| XL | ATLANTA BRAVES 2 | GREY | $70.00 $29.99 |
| 2XL | ATLANTA BRAVES 2 | GREY | $70.00 $29.99 |
| S | ATLANTA BRAVES 3 | NAVY | $70.00 $29.99 |
| M | ATLANTA BRAVES 3 | NAVY | $70.00 $29.99 |
| 2XL | ATLANTA BRAVES 3 | NAVY | $70.00 $29.99 |
| XL | NEW YORK YANKEES | NAVY | $70.00 $29.99 |
| 2XL | NEW YORK YANKEES | NAVY | $70.00 $29.99 |
| PITTSBURGH PIRATES | S | BLACK | $70.00 $29.99 |
| M | PITTSBURGH PIRATES | BLACK | $70.00 $29.99 |
| L | PITTSBURGH PIRATES | BLACK | $70.00 $29.99 |
| XL | PITTSBURGH PIRATES | BLACK | $70.00 $29.99 |
| KANSAS CITY ROYALS | BLACK | S | $70.00 $29.99 |
| CHICAGO CUBS | BLUE | XL | $70.00 $29.99 |
| ATLANTA BRAVES 4 | NAVY | 2XL | $70.00 $29.99 |
| NEW YORK YANKEES 2 | L | GREY | $70.00 $29.99 |
| MINNESOTA TWINS | M | GREY | $70.00 $29.99 |
| MINNESOTA TWINS | L | GREY | $70.00 $29.99 |
| MINNESOTA TWINS | XL | GREY | $70.00 $29.99 |
| SAN FRANCISCO GIANTS | L | BLACK | $70.00 $29.99 |
| SAN FRANCISCO GIANTS 2 | BLACK | L | $70.00 $29.99 |
| SAN FRANCISCO GIANTS 2 | BLACK | 2XL | $70.00 $29.99 |
| PHILADELPHIA PHILLIES 4 | RED | L | $70.00 $29.99 |
| PHILADELPHIA PHILLIES 4 | XL | RED | $70.00 $29.99 |
| KANSAS CITY ROYALS 2 | BLUE | 2XL | $70.00 $29.99 |
| BOSTON RED SOX | RED | XL | $70.00 $29.99 |
| NEW YORK YANKEES 2 | GREY | M | $70.00 $29.99 |
| LA DODGERS | BLUE | M | $70.00 $29.99 |
| TEXAS RANGERS | GREY | M | $70.00 $29.99 |
| TEXAS RANGERS | GREY | L | $70.00 $29.99 |
| COLORADO ROCKIES | BLACK | S | $70.00 $29.99 |
| COLORADO ROCKIES | BLACK | M | $70.00 $29.99 |
| COLORADO ROCKIES | BLACK | L | $70.00 $29.99 |
| COLORADO ROCKIES | BLACK | XL | $70.00 $29.99 |
| COLORADO ROCKIES | BLACK | 2XL | $70.00 $29.99 |
| WASHINGTON NATIONALS | GREY | S | $70.00 $29.99 |
| WASHINGTON NATIONALS | GREY | M | $70.00 $29.99 |
| WASHINGTON NATIONALS | GREY | L | $70.00 $29.99 |
| WASHINGTON NATIONALS | GREY | XL | $70.00 $29.99 |
| WASHINGTON NATIONALS | GREY | 2XL | $70.00 $29.99 |
| BOSTON RED SOX 2 | RED | S | $70.00 $29.99 |
| BOSTON RED SOX 2 | RED | M | $70.00 $29.99 |
| BOSTON RED SOX 2 | RED | 2XL | $70.00 $29.99 |
| WASHINGTON NATIONALS 2 | RED | S | $70.00 $29.99 |
| WASHINGTON NATIONALS 2 | RED | M | $70.00 $29.99 |
| WASHINGTON NATIONALS 2 | RED | L | $70.00 $29.99 |
| WASHINGTON NATIONALS 2 | RED | XL | $70.00 $29.99 |
| WASHINGTON NATIONALS 2 | RED | 2XL | $70.00 $29.99 |
| SAN FRANCISCO GIANTS 3 | BLACK | S | $70.00 $29.99 |
| SAN FRANCISCO GIANTS 3 | BLACK | M | $70.00 $29.99 |
| SAN FRANCISCO GIANTS 3 | BLACK | L | $70.00 $29.99 |
| SAN FRANCISCO GIANTS 3 | BLACK | XL | $70.00 $29.99 |
| SAN FRANCISCO GIANTS 3 | BLACK | 2XL | $70.00 $29.99 |
| BALTIMORE ORIOLES | BLACK | S | $70.00 $29.99 |
| BALTIMORE ORIOLES | BLACK | M | $70.00 $29.99 |
| BALTIMORE ORIOLES | BLACK | L | $70.00 $29.99 |
| BALTIMORE ORIOLES | BLACK | XL | $70.00 $29.99 |
| BALTIMORE ORIOLES | BLACK | 2XL | $70.00 $29.99 |
| NEW YORK METS | BLUE | S | $70.00 $29.99 |
| NEW YORK METS | BLUE | M | $70.00 $29.99 |
| NEW YORK METS | BLUE | L | $70.00 $29.99 |
| NEW YORK METS | BLUE | XL | $70.00 $29.99 |
| NEW YORK METS | BLUE | 2XL | $70.00 $29.99 |
| BOSTON RED SOX 3 | NAVY BLUE | S | $70.00 $29.99 |
| BOSTON RED SOX 3 | NAVY BLUE | 2XL | $70.00 $29.99 |
| MINNESOTA TWINS 2 | NAVY BLUE | S | $70.00 $29.99 |
| MINNESOTA TWINS 2 | NAVY BLUE | M | $70.00 $29.99 |
| MINNESOTA TWINS 2 | NAVY BLUE | 2XL | $70.00 $29.99 |
| LOS ANGELES DODGERS | S | BLUE | $70.00 $29.99 |
| LOS ANGELES DODGERS | L | BLUE | $70.00 $29.99 |
| LOS ANGELES DODGERS | XL | BLUE | $70.00 $29.99 |
| LOS ANGELES DODGERS | 2XL | BLUE | $70.00 $29.99 |
| TORONTO BLUE JAYS | S | GREY | $70.00 $29.99 |
| TORONTO BLUE JAYS | XL | GREY | $70.00 $29.99 |
| LOS ANGELES DODGERS 2 | S | BLUE | $70.00 $29.99 |
| LOS ANGELES DODGERS 2 | M | BLUE | $70.00 $29.99 |
| LOS ANGELES DODGERS 2 | L | BLUE | $70.00 $29.99 |
| LOS ANGELES DODGERS 2 | XL | BLUE | $70.00 $29.99 |
| LOS ANGELES DODGERS 2 | 2XL | BLUE | $70.00 $29.99 |
| TORONTO BLUE JAYS | GREY | L | $70.00 $29.99 |
| CHICAGO CUBS 2 | S | BLUE | $70.00 $29.99 |
| CHICAGO CUBS 2 | M | BLUE | $70.00 $29.99 |
| CHICAGO CUBS 2 | L | BLUE | $70.00 $29.99 |
| CHICAGO CUBS 2 | XL | BLUE | $70.00 $29.99 |
| CHICAGO CUBS 3 | S | GREY | $70.00 $29.99 |
| CHICAGO CUBS 3 | M | GREY | $70.00 $29.99 |
| CHICAGO CUBS 3 | L | GREY | $70.00 $29.99 |
| CHICAGO CUBS 3 | XL | GREY | $70.00 $29.99 |
| CHICAGO CUBS 3 | 2XL | GREY | $70.00 $29.99 |
| CHICAGO CUBS 4 | S | GREY | $70.00 $29.99 |
| CHICAGO CUBS 4 | M | GREY | $70.00 $29.99 |
| CHICAGO CUBS 4 | L | GREY | $70.00 $29.99 |
| CHICAGO CUBS 5 | S | RED | $70.00 $29.99 |
| CHICAGO CUBS 5 | XL | RED | $70.00 $29.99 |
| CHICAGO CUBS 6 | XL | BLUE | $70.00 $29.99 |
| CHICAGO CUBS 7 | S | NAVY BLUE | $70.00 $29.99 |
| CHICAGO CUBS 7 | XL | NAVY BLUE | $70.00 $29.99 |
| CHICAGO CUBS 7 | 2XL | NAVY BLUE | $70.00 $29.99 |
| CHICAGO CUBS 8 | S | GREY | $70.00 $29.99 |
| CHICAGO CUBS 8 | M | GREY | $70.00 $29.99 |
| CHICAGO CUBS 8 | 2XL | GREY | $70.00 $29.99 |
| CHICAGO CUBS 9 | S | BLUE | $70.00 $29.99 |
| CHICAGO CUBS 9 | L | BLUE | $70.00 $29.99 |
| CHICAGO CUBS 9 | XL | BLUE | $70.00 $29.99 |
| CHICAGO CUBS 9 | 2XL | BLUE | $70.00 $29.99 |
| CHICAGO CUBS 10 | S | BLACK | $70.00 $29.99 |
| CHICAGO CUBS 10 | XL | BLACK | $70.00 $29.99 |
| CHICAGO CUBS 11 | S | BLACK | $70.00 $29.99 |
| CHICAGO CUBS 11 | L | BLACK | $70.00 $29.99 |
| CHICAGO CUBS 11 | XL | BLACK | $70.00 $29.99 |
| CHICAGO CUBS 11 | 2XL | BLACK | $70.00 $29.99 |
| CHICAGO CUBS 12 | S | NAVY BLUE | $70.00 $29.99 |
| CHICAGO CUBS 12 | L | NAVY BLUE | $70.00 $29.99 |
remove
remove
remove
remove
remove
remove
remove
remove

Available in Various Teams, Players, Colors & Sizes!

$20.00

$29.95

$29.95

$25.49

$31.50

$19.99

$29.99

$21.99

-

-

-

-

-

-

-

-

Free Shipping

Flat $6.95

Flat $4.99

Free Shipping

Free Shipping

Flat $6.49

PayPal

PayPal

PayPal

PayPal

PayPal
VisaMC
Discover
AmEx

PayPal

PayPal

PayPal

bargainfinder2230
(658 )
100% Positive feedback

cutyoutoo
(1,437 )
100% Positive feedback

motherhen11244
(303 )
100% Positive feedback

outgoingoutfits
(5,023 )
99.9% Positive feedback

NewOption Apparel
(910 )
99.9% Positive feedback

missyfromky
(16,367 )
99.4% Positive feedback

Retro2Heritage
(103,325 )
99.7% Positive feedback

Fish Family Store
(19,048 )
99.9% Positive feedback

Money back or exchange (buyer's choice)

















Deals & Promotions View All
Power by
Chicdeals.io
It's landed. Get your smooth new iPhone 6 and all the best embellishments. Whether you're beginning the gathering with bluetooth speakers, following your run, or picking a vivid case and stand, your telephone can be completely customized to you.
FC Barcelona, established in 1899 by a gathering of youthful nonnatives living in Barcelona, was the consequence of the expanding notoriety of football, and other British sports, crosswise over Europe. These starting points have presented upon the Club its intercultural character, multi-sport center and its profoundly attached fidelity to Barcelona and Catalonia.
Jewellery makes the perfect gift, whether you're buying for someone special or just treating yourself to something new. With sterling silver and gorgeous gemstones, find pendants and lucky charms for every occasion.
Try not to use up every last cent with regards to school shopping. Discover awesome arrangements for all your school unquestionable requirements in tech, dormitory, and the sky is the limit from there - all under $20!
Nothing lifts a look like a decorative pair of earrings. Whether you favour a shape that drops down to your shoulders or an eye-catching hoop, earrings can transform you. Opt for rhinestones and gold for high-octane glamour.