MLB Authentic On-field Therma Base Hoodie Fleece Collection by MAJESTIC - Men's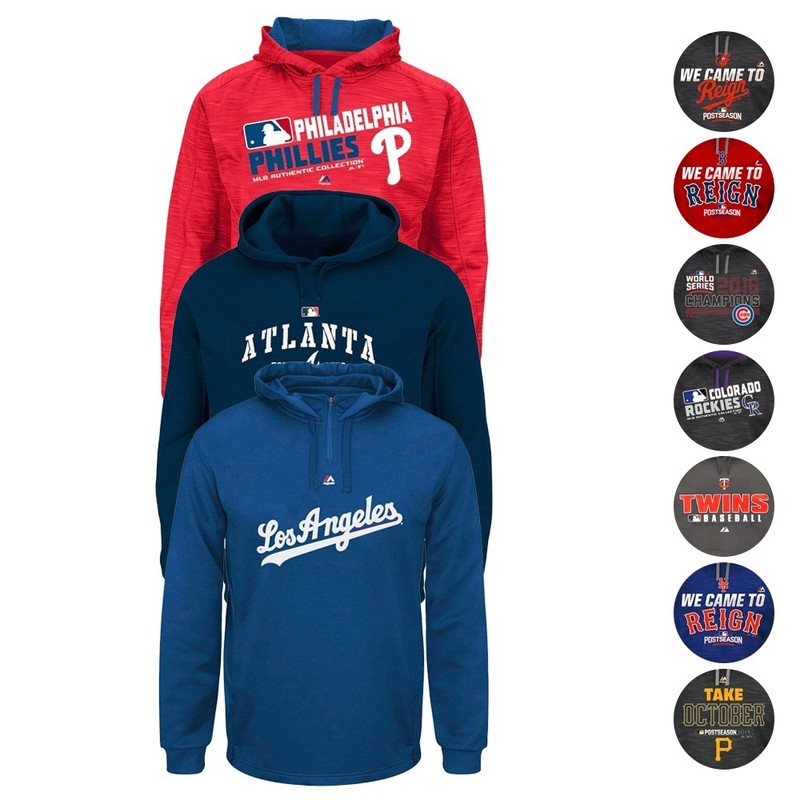 | Team | Color | Size | Price |
| --- | --- | --- | --- |
| PHILADELPHIA PHILLIES | RED | S | $70.00 $31.99 |
| PHILADELPHIA PHILLIES | RED | M | $70.00 $31.99 |
| PHILADELPHIA PHILLIES | RED | L | $70.00 $31.99 |
| PHILADELPHIA PHILLIES | RED | XL | $70.00 $31.99 |
| PHILADELPHIA PHILLIES | RED | 2XL | $70.00 $31.99 |
| MLB ALL-STAR GAME | NAVY | S | $70.00 $31.99 |
| MLB ALL-STAR GAME | NAVY | M | $70.00 $31.99 |
| MLB ALL-STAR GAME | NAVY | XL | $70.00 $31.99 |
| MLB ALL-STAR GAME | NAVY | 2XL | $70.00 $31.99 |
| PHILADELPHIA PHILLIES 2 | RED | M | $70.00 $31.99 |
| PHILADELPHIA PHILLIES 2 | RED | 2XL | $70.00 $31.99 |
| ATLANTA BRAVES | NAVY | L | $70.00 $31.99 |
| ATLANTA BRAVES | NAVY | XL | $70.00 $31.99 |
| S | ATLANTA BRAVES 2 | GREY | $70.00 $31.99 |
| M | ATLANTA BRAVES 2 | GREY | $70.00 $31.99 |
| L | ATLANTA BRAVES 2 | GREY | $70.00 $31.99 |
| XL | ATLANTA BRAVES 2 | GREY | $70.00 $31.99 |
| 2XL | ATLANTA BRAVES 2 | GREY | $70.00 $31.99 |
| S | ATLANTA BRAVES 3 | NAVY | $70.00 $31.99 |
| M | ATLANTA BRAVES 3 | NAVY | $70.00 $31.99 |
| 2XL | ATLANTA BRAVES 3 | NAVY | $70.00 $31.99 |
| XL | NEW YORK YANKEES | NAVY | $70.00 $31.99 |
| 2XL | NEW YORK YANKEES | NAVY | $70.00 $31.99 |
| PITTSBURGH PIRATES | S | BLACK | $70.00 $31.99 |
| M | PITTSBURGH PIRATES | BLACK | $70.00 $31.99 |
| L | PITTSBURGH PIRATES | BLACK | $70.00 $31.99 |
| XL | PITTSBURGH PIRATES | BLACK | $70.00 $31.99 |
| KANSAS CITY ROYALS | BLACK | S | $70.00 $31.99 |
| CHICAGO CUBS | BLUE | XL | $70.00 $31.99 |
| ATLANTA BRAVES 4 | NAVY | 2XL | $70.00 $31.99 |
| NEW YORK YANKEES 2 | L | GREY | $70.00 $31.99 |
| MINNESOTA TWINS | M | GREY | $70.00 $31.99 |
| MINNESOTA TWINS | L | GREY | $70.00 $31.99 |
| MINNESOTA TWINS | XL | GREY | $70.00 $31.99 |
| SAN FRANCISCO GIANTS | L | BLACK | $70.00 $31.99 |
| SAN FRANCISCO GIANTS 2 | BLACK | L | $70.00 $31.99 |
| SAN FRANCISCO GIANTS 2 | BLACK | 2XL | $70.00 $31.99 |
| PHILADELPHIA PHILLIES 4 | RED | L | $70.00 $31.99 |
| PHILADELPHIA PHILLIES 4 | XL | RED | $70.00 $31.99 |
| KANSAS CITY ROYALS 2 | BLUE | 2XL | $70.00 $31.99 |
| BOSTON RED SOX | RED | XL | $70.00 $31.99 |
| NEW YORK YANKEES 2 | GREY | M | $70.00 $31.99 |
| LA DODGERS | BLUE | M | $70.00 $31.99 |
| TEXAS RANGERS | GREY | M | $70.00 $31.99 |
| TEXAS RANGERS | GREY | L | $70.00 $31.99 |
| COLORADO ROCKIES | BLACK | S | $70.00 $31.99 |
| COLORADO ROCKIES | BLACK | M | $70.00 $31.99 |
| COLORADO ROCKIES | BLACK | L | $70.00 $31.99 |
| COLORADO ROCKIES | BLACK | XL | $70.00 $31.99 |
| COLORADO ROCKIES | BLACK | 2XL | $70.00 $31.99 |
| WASHINGTON NATIONALS | GREY | S | $70.00 $31.99 |
| WASHINGTON NATIONALS | GREY | M | $70.00 $31.99 |
| WASHINGTON NATIONALS | GREY | L | $70.00 $31.99 |
| WASHINGTON NATIONALS | GREY | XL | $70.00 $31.99 |
| WASHINGTON NATIONALS | GREY | 2XL | $70.00 $31.99 |
| BOSTON RED SOX 2 | RED | S | $70.00 $31.99 |
| BOSTON RED SOX 2 | RED | M | $70.00 $31.99 |
| BOSTON RED SOX 2 | RED | 2XL | $70.00 $31.99 |
| WASHINGTON NATIONALS 2 | RED | S | $70.00 $31.99 |
| WASHINGTON NATIONALS 2 | RED | M | $70.00 $31.99 |
| WASHINGTON NATIONALS 2 | RED | L | $70.00 $31.99 |
| WASHINGTON NATIONALS 2 | RED | XL | $70.00 $31.99 |
| WASHINGTON NATIONALS 2 | RED | 2XL | $70.00 $31.99 |
| SAN FRANCISCO GIANTS 3 | BLACK | S | $70.00 $31.99 |
| SAN FRANCISCO GIANTS 3 | BLACK | M | $70.00 $31.99 |
| SAN FRANCISCO GIANTS 3 | BLACK | L | $70.00 $31.99 |
| SAN FRANCISCO GIANTS 3 | BLACK | XL | $70.00 $31.99 |
| SAN FRANCISCO GIANTS 3 | BLACK | 2XL | $70.00 $31.99 |
| BALTIMORE ORIOLES | BLACK | S | $70.00 $31.99 |
| BALTIMORE ORIOLES | BLACK | M | $70.00 $31.99 |
| BALTIMORE ORIOLES | BLACK | L | $70.00 $31.99 |
| BALTIMORE ORIOLES | BLACK | XL | $70.00 $31.99 |
| BALTIMORE ORIOLES | BLACK | 2XL | $70.00 $31.99 |
| NEW YORK METS | BLUE | S | $70.00 $31.99 |
| NEW YORK METS | BLUE | M | $70.00 $31.99 |
| NEW YORK METS | BLUE | L | $70.00 $31.99 |
| NEW YORK METS | BLUE | XL | $70.00 $31.99 |
| NEW YORK METS | BLUE | 2XL | $70.00 $31.99 |
| BOSTON RED SOX 3 | NAVY BLUE | S | $70.00 $31.99 |
| BOSTON RED SOX 3 | NAVY BLUE | 2XL | $70.00 $31.99 |
| MINNESOTA TWINS 2 | NAVY BLUE | S | $70.00 $31.99 |
| MINNESOTA TWINS 2 | NAVY BLUE | M | $70.00 $31.99 |
| MINNESOTA TWINS 2 | NAVY BLUE | 2XL | $70.00 $31.99 |
| LOS ANGELES DODGERS | S | BLUE | $70.00 $31.99 |
| LOS ANGELES DODGERS | L | BLUE | $70.00 $31.99 |
| LOS ANGELES DODGERS | XL | BLUE | $70.00 $31.99 |
| LOS ANGELES DODGERS | 2XL | BLUE | $70.00 $31.99 |
| TORONTO BLUE JAYS | S | GREY | $70.00 $31.99 |
| TORONTO BLUE JAYS | XL | GREY | $70.00 $31.99 |
| LOS ANGELES DODGERS 2 | S | BLUE | $70.00 $31.99 |
| LOS ANGELES DODGERS 2 | M | BLUE | $70.00 $31.99 |
| LOS ANGELES DODGERS 2 | L | BLUE | $70.00 $31.99 |
| LOS ANGELES DODGERS 2 | XL | BLUE | $70.00 $31.99 |
| LOS ANGELES DODGERS 2 | 2XL | BLUE | $70.00 $31.99 |
| TORONTO BLUE JAYS | GREY | L | $70.00 $31.99 |
| CHICAGO CUBS 2 | S | BLUE | $70.00 $31.99 |
| CHICAGO CUBS 2 | M | BLUE | $70.00 $31.99 |
| CHICAGO CUBS 2 | L | BLUE | $70.00 $31.99 |
| CHICAGO CUBS 2 | XL | BLUE | $70.00 $31.99 |
| CHICAGO CUBS 3 | S | GREY | $70.00 $31.99 |
| CHICAGO CUBS 3 | M | GREY | $70.00 $31.99 |
| CHICAGO CUBS 3 | L | GREY | $70.00 $31.99 |
| CHICAGO CUBS 3 | XL | GREY | $70.00 $31.99 |
| CHICAGO CUBS 3 | 2XL | GREY | $70.00 $31.99 |
| CHICAGO CUBS 4 | S | GREY | $70.00 $31.99 |
| CHICAGO CUBS 4 | M | GREY | $70.00 $31.99 |
| CHICAGO CUBS 4 | L | GREY | $70.00 $31.99 |
| CHICAGO CUBS 5 | S | RED | $70.00 $31.99 |
| CHICAGO CUBS 5 | XL | RED | $70.00 $31.99 |
| CHICAGO CUBS 6 | XL | BLUE | $70.00 $31.99 |
| CHICAGO CUBS 7 | S | NAVY BLUE | $70.00 $31.99 |
| CHICAGO CUBS 7 | XL | NAVY BLUE | $70.00 $31.99 |
| CHICAGO CUBS 7 | 2XL | NAVY BLUE | $70.00 $31.99 |
| CHICAGO CUBS 8 | S | GREY | $70.00 $31.99 |
| CHICAGO CUBS 8 | M | GREY | $70.00 $31.99 |
| CHICAGO CUBS 8 | 2XL | GREY | $70.00 $31.99 |
| CHICAGO CUBS 9 | S | BLUE | $70.00 $31.99 |
| CHICAGO CUBS 9 | L | BLUE | $70.00 $31.99 |
| CHICAGO CUBS 9 | XL | BLUE | $70.00 $31.99 |
| CHICAGO CUBS 9 | 2XL | BLUE | $70.00 $31.99 |
| CHICAGO CUBS 10 | S | BLACK | $70.00 $31.99 |
| CHICAGO CUBS 10 | XL | BLACK | $70.00 $31.99 |
| CHICAGO CUBS 11 | S | BLACK | $70.00 $31.99 |
| CHICAGO CUBS 11 | L | BLACK | $70.00 $31.99 |
| CHICAGO CUBS 11 | XL | BLACK | $70.00 $31.99 |
| CHICAGO CUBS 11 | 2XL | BLACK | $70.00 $31.99 |
| CHICAGO CUBS 12 | S | NAVY BLUE | $70.00 $31.99 |
| CHICAGO CUBS 12 | L | NAVY BLUE | $70.00 $31.99 |
Deals & Promotions View All
Power by
Chicdeals.io
Star striker who turned into an individual from the French national group in 2007 and joined Real Madrid in 2009 in the wake of burning through five seasons playing for Lyon; named the French Player of the Year in 2011 and 2012.
Here and there you need to at long last give in and get another most loved sack. Begin the year off with a straightforward and useful treat - dull rich cowhide or starch khaki canvas will have you secured for each event.
Toss on some brilliantly shaded running shoes and have an enthusiastic begin to your New Year. Whatever you want to do – conditioning your tummy with a weighted hula loop or expanding your cardio with a sprint – make certain to practice in st
The Case Closed anime series, known as Meitantei Conan lit. Great Detective Conan, officially translated as Detective Conan) in its original release in Japan, is based on the manga series of the same name by Gosho Aoyama. It was localized in English as Case Closed by Funimation due to unspecified legal problems. The anime is produced by TMS Entertainment and Yomiuri Telecasting Corporation with the chief directors being Kenji Kodama and Yasuichiro Yamamoto. The series follows the teenage detective Jimmy Kudo, who transforms into a child after being poisoned with APTX 4869 by the Black Organization. Now named Conan Edogawa and living with the Moores, Conan solves murders during his daily life as he awaits the day to defeat the Black Organization.
Switch on to better bulbs. Whether it's LEDs to save energy, dimmable halogen spotlights or candle shapes for a flame effect, shop for bulbs that show your home in a better light.