New Mens Under Armour Muscle HeatGear Scope Fit Gym Athletic Top Shirt
Item condition: New without tags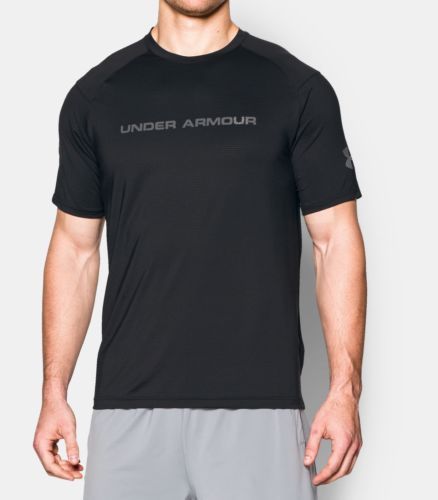 | Size (Mens) | Color | Price |
| --- | --- | --- |
| Small | C1A | $60.00 $23.90 |
| Small | C1C | $60.00 $23.90 |
| Small | C1E | $60.00 $23.90 |
| Small | C2B | $60.00 $23.90 |
| Small | C2C | $60.00 $23.90 |
| Small | C2D | $60.00 $23.90 |
| Small | C2G | $60.00 $23.90 |
| Small | C3A | $60.00 $23.90 |
| Small | C3C | $60.00 $23.90 |
| Small | C3D | $60.00 $23.90 |
| Small | C3E | $60.00 $23.90 |
| Small | C3F | $60.00 $23.90 |
| Small | C3G | $60.00 $23.90 |
| Medium | C1D | $60.00 $23.90 |
| Medium | C2A | $60.00 $23.90 |
| Medium | C2B | $60.00 $23.90 |
| Medium | C2C | $60.00 $23.90 |
| Medium | C2D | $60.00 $23.90 |
| Medium | C2E | $60.00 $23.90 |
| Medium | C2F | $60.00 $23.90 |
| Medium | C2G | $60.00 $23.90 |
| Medium | C3A | $60.00 $23.90 |
| Medium | C3C | $60.00 $23.90 |
| Medium | C3D | $60.00 $23.90 |
| Medium | C3E | $60.00 $23.90 |
| Medium | C3F | $60.00 $23.90 |
| Medium | C3G | $60.00 $23.90 |
| Large | C1B | $60.00 $23.90 |
| Large | C1C | $60.00 $23.90 |
| Large | C1E | $60.00 $23.90 |
| Large | C2A | $60.00 $23.90 |
| Large | C2B | $60.00 $23.90 |
| Large | C2C | $60.00 $23.90 |
| Large | C2D | $60.00 $23.90 |
| Large | C2E | $60.00 $23.90 |
| Large | C2F | $60.00 $23.90 |
| Large | C2G | $60.00 $23.90 |
| Large | C3A | $60.00 $23.90 |
| Large | C3B | $60.00 $23.90 |
| Large | C3C | $60.00 $23.90 |
| Large | C3D | $60.00 $23.90 |
| Large | C3E | $60.00 $23.90 |
| Large | C3F | $60.00 $23.90 |
| Large | C3G | $60.00 $23.90 |
| XL | C1A | $60.00 $23.90 |
| XL | C1C | $60.00 $23.90 |
| XL | C1E | $60.00 $23.90 |
| XL | C2A | $60.00 $23.90 |
| XL | C2B | $60.00 $23.90 |
| XL | C2C | $60.00 $23.90 |
| XL | C2D | $60.00 $23.90 |
| XL | C2F | $60.00 $23.90 |
| XL | C2G | $60.00 $23.90 |
| XL | C3A | $60.00 $23.90 |
| XL | C3B | $60.00 $23.90 |
| XL | C3C | $60.00 $23.90 |
| XL | C3D | $60.00 $23.90 |
| XL | C3E | $60.00 $23.90 |
| XL | C3F | $60.00 $23.90 |
| XL | C3G | $60.00 $23.90 |
| 2XL | C1A | $60.00 $23.90 |
| 2XL | C1C | $60.00 $23.90 |
| 2XL | C1D | $60.00 $23.90 |
| 2XL | C1E | $60.00 $23.90 |
| 2XL | C2A | $60.00 $23.90 |
| 2XL | C2C | $60.00 $23.90 |
| 2XL | C2D | $60.00 $23.90 |
| 2XL | C2E | $60.00 $23.90 |
| 2XL | C2F | $60.00 $23.90 |
| 2XL | C2G | $60.00 $23.90 |
| 2XL | C3B | $60.00 $23.90 |
| 2XL | C3D | $60.00 $23.90 |
| 2XL | C3F | $60.00 $23.90 |
| 2XL | C3G | $60.00 $23.90 |
| 3XL | C2D | $60.00 $23.90 |
| 3XL | C2F | $60.00 $23.90 |
| XS | C1A | $60.00 $23.90 |
| XS | C1E | $60.00 $23.90 |
| Small | C4A | $23.90 |
| Small | C4B | $23.90 |
| Small | C4C | $23.90 |
| Small | C4D | $23.90 |
| Small | C4E | $23.90 |
| Small | C4F | $23.90 |
| Small | C4G | $23.90 |
| Small | C4H | $23.90 |
| Small | C5A | $23.90 |
| Small | C5B | $23.90 |
| Small | C5C | $23.90 |
| Small | C5D | $23.90 |
| Small | C5E | $23.90 |
| Small | C5F | $23.90 |
| Small | C5G | $23.90 |
| Small | C5i | $23.90 |
| Medium | C4A | $23.90 |
| Medium | C4B | $23.90 |
| Medium | C4C | $23.90 |
| Medium | C4E | $23.90 |
| Medium | C4F | $23.90 |
| Medium | C4G | $23.90 |
| Medium | C4H | $23.90 |
| Medium | C4i | $23.90 |
| Medium | C5B | $23.90 |
| Medium | C5C | $23.90 |
| Medium | C5D | $23.90 |
| Medium | C5E | $23.90 |
| Medium | C5F | $23.90 |
| Medium | C5G | $23.90 |
| Medium | C5H | $23.90 |
| Large | C4A | $23.90 |
| Large | C4B | $23.90 |
| Large | C4C | $23.90 |
| Large | C4D | $23.90 |
| Large | C4E | $23.90 |
| Large | C4F | $23.90 |
| Large | C4G | $23.90 |
| Large | C4H | $23.90 |
| Large | C4i | $23.90 |
| Large | C5A | $23.90 |
| Large | C5B | $23.90 |
| Large | C5C | $23.90 |
| Large | C5D | $23.90 |
| Large | C5E | $23.90 |
| Large | C5F | $23.90 |
| Large | C5G | $23.90 |
| Large | C5H | $23.90 |
| Large | C5i | $23.90 |
| XL | C4A | $23.90 |
| XL | C4B | $23.90 |
| XL | C4C | $23.90 |
| XL | C4E | $23.90 |
| XL | C4F | $23.90 |
| XL | C4G | $23.90 |
| XL | C4H | $23.90 |
| XL | C4i | $23.90 |
| XL | C5A | $23.90 |
| XL | C5B | $23.90 |
| XL | C5C | $23.90 |
| XL | C5D | $23.90 |
| XL | C5E | $23.90 |
| XL | C5F | $23.90 |
| XL | C5G | $23.90 |
| XL | C5H | $23.90 |
| XL | C5i | $23.90 |
| 2XL | C4A | $23.90 |
| 2XL | C4B | $23.90 |
| 2XL | C4E | $23.90 |
| 2XL | C4F | $23.90 |
| 2XL | C4G | $23.90 |
| 2XL | C4H | $23.90 |
| 2XL | C4i | $23.90 |
| 2XL | C5B | $23.90 |
| 2XL | C5C | $23.90 |
| 2XL | C5D | $23.90 |
| 2XL | C5E | $23.90 |
| 2XL | C5G | $23.90 |
| 2XL | C5H | $23.90 |
| 2XL | C5i | $23.90 |
| 3XL | C4B | $23.90 |
| 3XL | C4E | $23.90 |
| 3XL | C4H | $23.90 |
| 3XL | C4i | $23.90 |
You love nothing more than the thrill of a new video game. From Super Mario Bros to Just Dance 2016, settle down and immerse yourself in your favourite virtual reality. The power really is in your hands.
You won't have any yearning to leave behind a noteworthy open door when the clock strikes midnight, so make a point to get the monstrously key watch on your wrist before the New Year. Whether you like a routine silver basic or a splendid propelled look, there'll one for you.
Switch on to better bulbs. Whether it's LEDs to save energy, dimmable halogen spotlights or candle shapes for a flame effect, shop for bulbs that show your home in a better light.
Nothing lifts a look like a decorative pair of earrings. Whether you favour a shape that drops down to your shoulders or an eye-catching hoop, earrings can transform you. Opt for rhinestones and gold for high-octane glamour.
Try not to use up every last cent with regards to school shopping. Discover awesome arrangements for all your school unquestionable requirements in tech, dormitory, and the sky is the limit from there - all under $20!