Item condition: New with box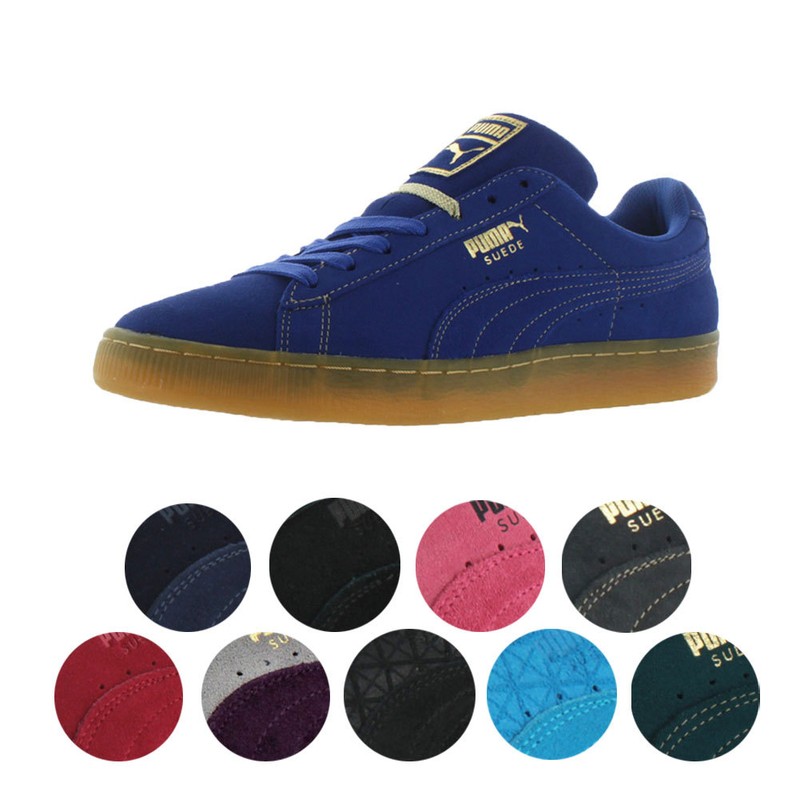 THE MOST ICONIC PUMA SNEAKER EVER Authorized Retailer
| US Shoe Size (Men's) | Color | Price |
| --- | --- | --- |
| 12 | Purple | $70.00 $44.99 |
| 11 | Purple | $70.00 $44.99 |
| 9.5 | Blue/Orange | $70.00 $44.99 |
| 10 | Purple | $70.00 $44.99 |
| 7.5 | Blue/Red/White | $70.00 $44.99 |
| 13 | Blue/Red/White | $70.00 $44.99 |
| 12 | Blue/Red/White | $70.00 $44.99 |
| 11 | Blue/Red/White | $70.00 $44.99 |
| 10.5 | Blue/Red/White | $70.00 $44.99 |
| 8 | Blue/Red/White | $70.00 $44.99 |
| 9.5 | Purple | $70.00 $44.99 |
| 10.5 | Blue/Orange | $70.00 $44.99 |
| 10 | Black/Team Gold | $70.00 $44.99 |
| 11 | Black/Team Gold | $70.00 $44.99 |
| 13 | Blue/Orange | $70.00 $44.99 |
| 10 | Peacoat Navy/Gold Foil | $70.00 $44.99 |
| 10.5 | Steel Grey/Black/Dark Shadow | $70.00 $44.99 |
| 10 | Blue Jewel/White | $70.00 $44.99 |
| 10.5 | Blue Jewel/White | $70.00 $44.99 |
| 11 | Blue Jewel/White | $70.00 $44.99 |
| 8 | Black/White | $70.00 $44.99 |
| 8.5 | Black/White | $70.00 $44.99 |
| 9 | Black/White | $70.00 $44.99 |
| 9.5 | Black/White | $70.00 $44.99 |
| 10 | Black/White | $70.00 $44.99 |
| 10.5 | Black/White | $70.00 $44.99 |
| 11 | Black/White | $70.00 $44.99 |
| 11.5 | Black/White | $70.00 $44.99 |
| 12 | Black/White | $70.00 $44.99 |
| 13 | Black/White | $70.00 $44.99 |
| 8.5 | Teaberry Red/Black | $70.00 $44.99 |
| 9 | Teaberry Red/Black | $70.00 $44.99 |
| 9.5 | Teaberry Red/Black | $70.00 $44.99 |
| 10 | Teaberry Red/Black | $70.00 $44.99 |
| 10.5 | Teaberry Red/Black | $70.00 $44.99 |
| 11 | Teaberry Red/Black | $70.00 $44.99 |
| 12 | Teaberry Red/Black | $70.00 $44.99 |
| 13 | Teaberry Red/Black | $70.00 $44.99 |
| 8.5 | Peacoat | $70.00 $44.99 |
| 9.5 | Peacoat | $70.00 $44.99 |
| 10 | Peacoat | $70.00 $44.99 |
| 10.5 | Peacoat | $70.00 $44.99 |
| 11 | Peacoat | $70.00 $44.99 |
| 11.5 | Peacoat | $70.00 $44.99 |
| 12 | Peacoat | $70.00 $44.99 |
| 13 | Peacoat | $70.00 $44.99 |
| 8.5 | Puma Black | $70.00 $44.99 |
| 9 | Puma Black | $70.00 $44.99 |
| 9.5 | Puma Black | $70.00 $44.99 |
| 10 | Puma Black | $70.00 $44.99 |
| 10.5 | Puma Black | $70.00 $44.99 |
| 11 | Puma Black | $70.00 $44.99 |
| 11.5 | Puma Black | $70.00 $44.99 |
| 12 | Puma Black | $70.00 $44.99 |
| 13 | Puma Black | $70.00 $44.99 |
| 8.5 | Barbados Cherry | $70.00 $44.99 |
| 9 | Barbados Cherry | $70.00 $44.99 |
| 9.5 | Barbados Cherry | $70.00 $44.99 |
| 10 | Barbados Cherry | $70.00 $44.99 |
| 10.5 | Barbados Cherry | $70.00 $44.99 |
| 11 | Barbados Cherry | $70.00 $44.99 |
| 11.5 | Barbados Cherry | $70.00 $44.99 |
| 12 | Barbados Cherry | $70.00 $44.99 |
| 13 | Barbados Cherry | $70.00 $44.99 |
| 12 | Blue Jewel/White | $70.00 $44.99 |
| 8 | Teaberry Red/Black | $70.00 $44.99 |
| 11.5 | Teaberry Red/Black | $70.00 $44.99 |
| 14 | Teaberry Red/Black | $70.00 $44.99 |
| 9 | Peacoat | $70.00 $44.99 |
| 9 | Surf The Web/Metallic Gold | $70.00 $44.99 |
| 9.5 | Surf The Web/Metallic Gold | $70.00 $44.99 |
| 10.5 | Surf The Web/Metallic Gold | $70.00 $44.99 |
| 11 | Surf The Web/Metallic Gold | $70.00 $44.99 |
| 10 | Surf The Web/Metallic Gold | $70.00 $44.99 |
| 8.5 | Storm/Metallic Gold | $70.00 $44.99 |
| 9 | Storm/Metallic Gold | $70.00 $44.99 |
| 9.5 | Storm/Metallic Gold | $70.00 $44.99 |
| 10 | Storm/Metallic Gold | $70.00 $44.99 |
| 10.5 | Storm/Metallic Gold | $70.00 $44.99 |
| 12 | Storm/Metallic Gold | $70.00 $44.99 |
| 13 | Storm/Metallic Gold | $70.00 $44.99 |
| 9 | Dark Shadow/Metallic Gold | $70.00 $44.99 |
| 9.5 | Dark Shadow/Metallic Gold | $70.00 $44.99 |
| 10 | Dark Shadow/Metallic Gold | $70.00 $44.99 |
| 10.5 | Dark Shadow/Metallic Gold | $70.00 $44.99 |
| 11 | Dark Shadow/Metallic Gold | $70.00 $44.99 |
| 11.5 | Dark Shadow/Metallic Gold | $70.00 $44.99 |
| 13 | Dark Shadow/Metallic Gold | $70.00 $44.99 |
The end of the year with snow. Many people were preparing to welcome the festive fun. The upcoming Whether it is Christmas And celebrate the New Year. And close enough to the day of this year. I Wanna Party
Womens, Mens, Youth and Children Clothing, Shoes & Accessories. New and Barley used Fashion Clothing. Thanks for shopping!
Make multitasking that bit easier with a headset that's comfortable, stylish, and has superior sound quality. Busy people need their tech to do the work for them.
Ten minutes till class. What's more, the whole grounds to get over. You push off and drift over the quad on your board. Slipping into class just before the educator checks participation. Riding a bicycle, skateboard, or bike to class can be an unfathomably energizing and liberating minute in a generally deskbound day an opportunity to practice your body notwithstanding your psyche. So school more quick witted with these option methods of grounds transport.
The Hunger Games is a progression of three experience books composed by the American writer Suzanne Collins. The arrangement is set in The Hunger Games universe, and takes after youthful characters Katniss Everdeen and Peeta Mellark.