Item condition: New with box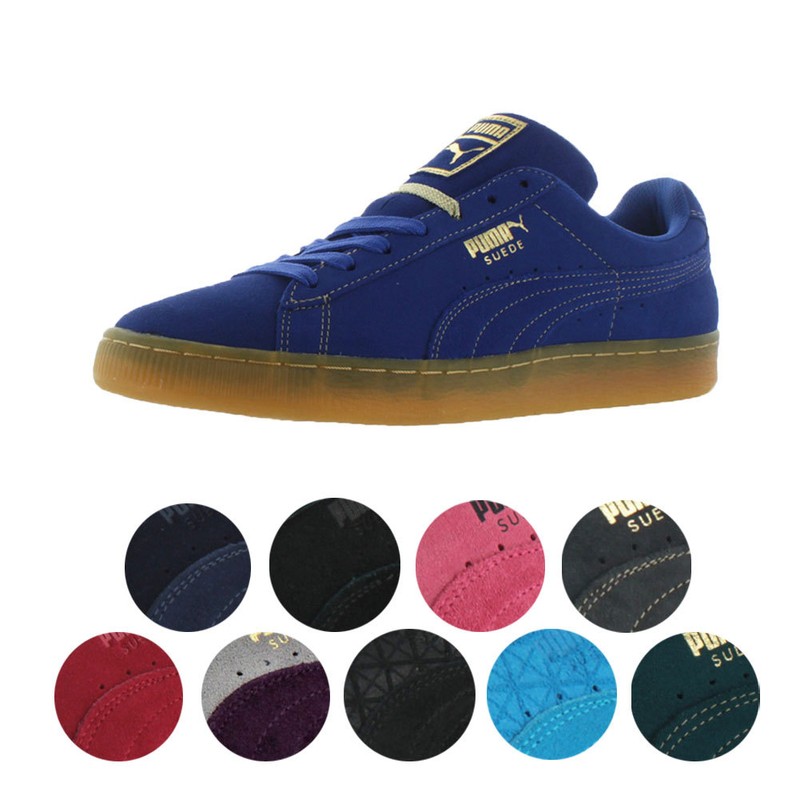 THE MOST ICONIC PUMA SNEAKER EVER Authorized Retailer
| US Shoe Size (Men's) | Color | Price |
| --- | --- | --- |
| 12 | Purple | $70.00 $44.99 |
| 11 | Purple | $70.00 $44.99 |
| 9.5 | Blue/Orange | $70.00 $44.99 |
| 10 | Purple | $70.00 $44.99 |
| 7.5 | Blue/Red/White | $70.00 $44.99 |
| 13 | Blue/Red/White | $70.00 $44.99 |
| 12 | Blue/Red/White | $70.00 $44.99 |
| 11 | Blue/Red/White | $70.00 $44.99 |
| 10.5 | Blue/Red/White | $70.00 $44.99 |
| 8 | Blue/Red/White | $70.00 $44.99 |
| 9.5 | Purple | $70.00 $44.99 |
| 10.5 | Blue/Orange | $70.00 $44.99 |
| 10 | Black/Team Gold | $70.00 $44.99 |
| 11 | Black/Team Gold | $70.00 $44.99 |
| 13 | Blue/Orange | $70.00 $44.99 |
| 10 | Peacoat Navy/Gold Foil | $70.00 $44.99 |
| 10.5 | Steel Grey/Black/Dark Shadow | $70.00 $44.99 |
| 10 | Blue Jewel/White | $70.00 $44.99 |
| 10.5 | Blue Jewel/White | $70.00 $44.99 |
| 11 | Blue Jewel/White | $70.00 $44.99 |
| 8 | Black/White | $70.00 $44.99 |
| 8.5 | Black/White | $70.00 $44.99 |
| 9 | Black/White | $70.00 $44.99 |
| 9.5 | Black/White | $70.00 $44.99 |
| 10 | Black/White | $70.00 $44.99 |
| 10.5 | Black/White | $70.00 $44.99 |
| 11 | Black/White | $70.00 $44.99 |
| 11.5 | Black/White | $70.00 $44.99 |
| 12 | Black/White | $70.00 $44.99 |
| 13 | Black/White | $70.00 $44.99 |
| 8.5 | Teaberry Red/Black | $70.00 $39.99 |
| 9 | Teaberry Red/Black | $70.00 $39.99 |
| 9.5 | Teaberry Red/Black | $70.00 $39.99 |
| 10 | Teaberry Red/Black | $70.00 $39.99 |
| 10.5 | Teaberry Red/Black | $70.00 $39.99 |
| 11 | Teaberry Red/Black | $70.00 $39.99 |
| 12 | Teaberry Red/Black | $70.00 $39.99 |
| 13 | Teaberry Red/Black | $70.00 $39.99 |
| 8.5 | Peacoat | $70.00 $44.99 |
| 9.5 | Peacoat | $70.00 $44.99 |
| 10 | Peacoat | $70.00 $44.99 |
| 10.5 | Peacoat | $70.00 $44.99 |
| 11 | Peacoat | $70.00 $44.99 |
| 11.5 | Peacoat | $70.00 $44.99 |
| 12 | Peacoat | $70.00 $44.99 |
| 13 | Peacoat | $70.00 $44.99 |
| 8.5 | Puma Black | $70.00 $44.99 |
| 9 | Puma Black | $70.00 $44.99 |
| 9.5 | Puma Black | $70.00 $44.99 |
| 10 | Puma Black | $70.00 $44.99 |
| 10.5 | Puma Black | $70.00 $44.99 |
| 11 | Puma Black | $70.00 $44.99 |
| 11.5 | Puma Black | $70.00 $44.99 |
| 12 | Puma Black | $70.00 $44.99 |
| 13 | Puma Black | $70.00 $44.99 |
| 8.5 | Barbados Cherry | $70.00 $44.99 |
| 9 | Barbados Cherry | $70.00 $44.99 |
| 9.5 | Barbados Cherry | $70.00 $44.99 |
| 10 | Barbados Cherry | $70.00 $44.99 |
| 10.5 | Barbados Cherry | $70.00 $44.99 |
| 11 | Barbados Cherry | $70.00 $44.99 |
| 11.5 | Barbados Cherry | $70.00 $44.99 |
| 12 | Barbados Cherry | $70.00 $44.99 |
| 13 | Barbados Cherry | $70.00 $44.99 |
| 12 | Blue Jewel/White | $70.00 $44.99 |
| 8 | Teaberry Red/Black | $70.00 $39.99 |
| 11.5 | Teaberry Red/Black | $70.00 $39.99 |
| 14 | Teaberry Red/Black | $70.00 $39.99 |
| 9 | Peacoat | $70.00 $44.99 |
| 9 | Surf The Web/Metallic Gold | $70.00 $44.99 |
| 9.5 | Surf The Web/Metallic Gold | $70.00 $44.99 |
| 10.5 | Surf The Web/Metallic Gold | $70.00 $44.99 |
| 11 | Surf The Web/Metallic Gold | $70.00 $44.99 |
| 10 | Surf The Web/Metallic Gold | $70.00 $44.99 |
| 8.5 | Storm/Metallic Gold | $70.00 $44.99 |
| 9 | Storm/Metallic Gold | $70.00 $44.99 |
| 9.5 | Storm/Metallic Gold | $70.00 $44.99 |
| 10 | Storm/Metallic Gold | $70.00 $44.99 |
| 10.5 | Storm/Metallic Gold | $70.00 $44.99 |
| 12 | Storm/Metallic Gold | $70.00 $44.99 |
| 13 | Storm/Metallic Gold | $70.00 $44.99 |
| 9 | Dark Shadow/Metallic Gold | $70.00 $44.99 |
| 9.5 | Dark Shadow/Metallic Gold | $70.00 $44.99 |
| 10 | Dark Shadow/Metallic Gold | $70.00 $44.99 |
| 10.5 | Dark Shadow/Metallic Gold | $70.00 $44.99 |
| 11 | Dark Shadow/Metallic Gold | $70.00 $44.99 |
| 11.5 | Dark Shadow/Metallic Gold | $70.00 $44.99 |
| 13 | Dark Shadow/Metallic Gold | $70.00 $44.99 |
| 7.5 | Teaberry Red/Black | $70.00 $39.99 |
| 8 | Puma Black | $70.00 $44.99 |
| 8 | Peacoat | $70.00 $44.99 |
Midnightway.com - Motors parts & accessories
Ten minutes till class. What's more, the whole grounds to get over. You push off and drift over the quad on your board. Slipping into class just before the educator checks participation. Riding a bicycle, skateboard, or bike to class can be an unfathomably energizing and liberating minute in a generally deskbound day an opportunity to practice your body notwithstanding your psyche. So school more quick witted with these option methods of grounds transport.
It's landed. Get your smooth new iPhone 6 and all the best embellishments. Whether you're beginning the gathering with bluetooth speakers, following your run, or picking a vivid case and stand, your telephone can be completely customized to you.
Here and there you need to at long last give in and get another most loved sack. Begin the year off with a straightforward and useful treat - dull rich cowhide or starch khaki canvas will have you secured for each event.
Jewellery makes the perfect gift, whether you're buying for someone special or just treating yourself to something new. With sterling silver and gorgeous gemstones, find pendants and lucky charms for every occasion.
For an even, flawless complexion, only the best brushes will do. Opt for baby soft fibres, whether you're applying foundation or contouring with a dusting of blusher. Boost your natural beauty with brushes that give the perfect finish.