Razor Power Core E90 Electric Scooter - Choose Color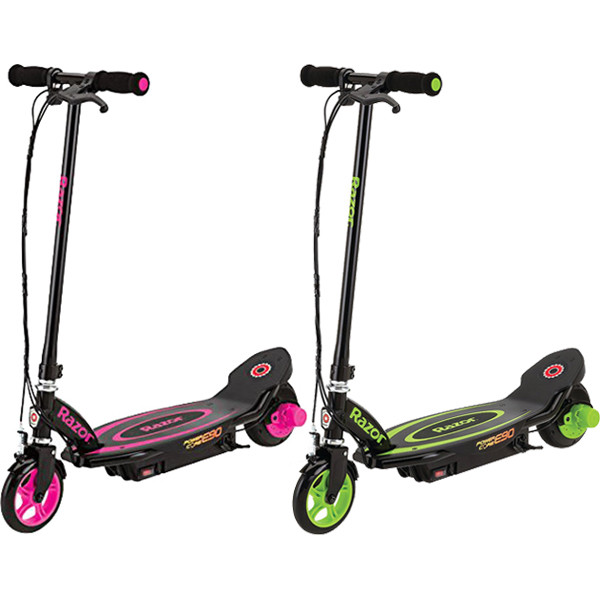 Authorized Razor Dealer with USA Warranty
| color | Price |
| --- | --- |
| Green (13111416) | $129.99 $109.00 |
| Pink (13111463) | $129.99 $109.00 |
remove
remove
remove
remove
remove
remove
remove
remove
remove
remove

Brand New, USA Warranty, Authorized Dealer

#1 Seller – For Ages 3 & Up – Den Haven – Adjustable

$117.15

$118.22

$109.00

$30.79

$39.95

$65.75

$63.85

$83.00

$39.00

$23.69

-

-

-

-

-

-

-

-

-

-

Free Shipping

Free Shipping

Free Shipping

Free Shipping

Free Shipping

Free Shipping

Free Shipping

Free Shipping

Free Shipping

Free Shipping

PayPal

PayPal

PayPal

PayPal

PayPal

PayPal

PayPal

PayPal

PayPal

PayPal

luxurydiscountwarehouse
(30,137 )
99.3% Positive feedback

Smooth Electronics Wholesales
(19,805 )
98.3% Positive feedback

robnanzig
(7,993 )
100% Positive feedback

Gold Coast Retail
(12,310 )
99.7% Positive feedback

Maxx A1
(5,189 )
99.6% Positive feedback

kkla1977
(4,780 )
98.7% Positive feedback

mightygalaxy
(352,835 )
99.7% Positive feedback

waskitrici-5
(2 )
75% Positive feedback

BuyDig
(514,871 )
98.9% Positive feedback

Covershield
(608,890 )
98.7% Positive feedback

Money back or replacement (buyer's choice)

Money back or exchange (buyer's choice)

Zip around the neighborhood in style

Durable aluminum frame built to last

Adjustable T-bar extends for taller kids

Easy to access rear brake





















Switch on to better bulbs. Whether it's LEDs to save energy, dimmable halogen spotlights or candle shapes for a flame effect, shop for bulbs that show your home in a better light.
Toss on some brilliantly shaded running shoes and have an enthusiastic begin to your New Year. Whatever you want to do – conditioning your tummy with a weighted hula loop or expanding your cardio with a sprint – make certain to practice in st
Pick up your Huawei smartphone with delight. Replying to a text or catching up on social media has never felt this good. Enter another galaxy of mobile phone technology with the latest handsets from the biggest brands. Be proud of your phone.
Experience sports, training, shopping and everything else that's new at Nike from any country in the world.