Razor Power Core E90 Electric Scooter - Choose Color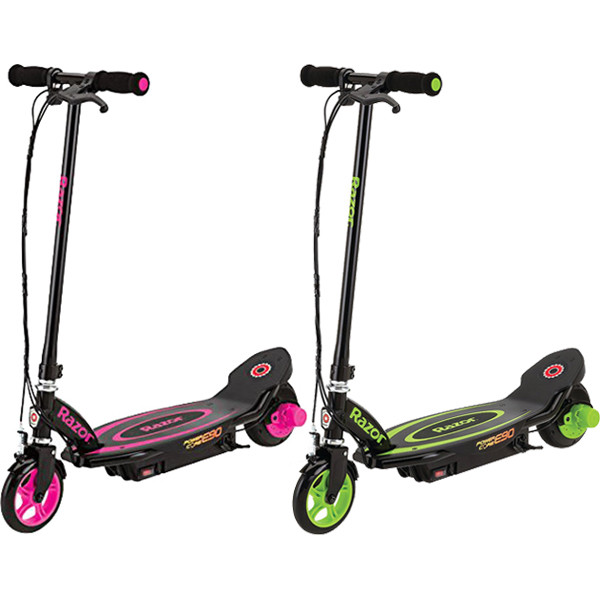 Authorized Razor Dealer with USA Warranty
| color | Price |
| --- | --- |
| Green (13111416) | $129.99 $109.00 |
| Pink (13111463) | $129.99 $109.00 |
remove
remove
remove
remove
remove
remove
remove
remove
remove
remove

TARGET. EXPECT MORE. PAY LESS.

$120.83

$50.00

$100.24

$59.00

$39.99

$32.89

$71.59

$103.99

$40.66

$108.07

-

-

-

-

-

-

-

-

-

-

Free Shipping

Free Shipping

Free Shipping

Free Shipping

Free Shipping

Free Shipping

Free Shipping

Free Shipping

Free Shipping

PayPal

PayPal

PayPal

PayPal

PayPal

PayPal

PayPal

PayPal

PayPal

PayPal

lotoonsca3
(19,867 )
98.7% Positive feedback

express16warehouse
(129 )
100% Positive feedback

Smooth Electronics Wholesales
(16,885 )
99% Positive feedback

vokul-online
(3,788 )
99.5% Positive feedback

Target Store
(578,360 )
99.1% Positive feedback

digitaldomain2015
(36,248 )
98.6% Positive feedback

luckystore258
(16,334 )
97.8% Positive feedback

euromegashop
(35,424 )
97.4% Positive feedback

rahfr-wbzzvs7gSTORE
(7,518 )
99% Positive feedback

Pink and Blue Gifts
(455,408 )
99.4% Positive feedback

L 38.74 x W 16.06 x H 6.5 inches

L 5.91 x W 4.72 x H 1.57 inches

Adult Supervision Recommended

folds for storage ~non-slip deck ~rear f

6 Month Limited Manufacturer Warranty

For Kids Pro Kick Scooter

100mm PU Casted Aluminium Core Wheels

Frustration Free Packaging

Frustration-Free Packaging





















Deals & Promotions View All
Power by
Chicdeals.io
The end of the year with snow. Many people were preparing to welcome the festive fun. The upcoming Whether it is Christmas And celebrate the New Year. And close enough to the day of this year. I Wanna Party
You love nothing more than the thrill of a new video game. From Super Mario Bros to Just Dance 2016, settle down and immerse yourself in your favourite virtual reality. The power really is in your hands.
Try not to use up every last cent with regards to school shopping. Discover awesome arrangements for all your school unquestionable requirements in tech, dormitory, and the sky is the limit from there - all under $20!
Womens, Mens, Youth and Children Clothing, Shoes & Accessories. New and Barley used Fashion Clothing. Thanks for shopping!
Ian Fraser "Lemmy" was an English musician, singer, and songwriter who founded and led the rock band Motörhead. His music and lifestyle was a distinctive part of the heavy metal genre.